Batten down the hatches… stay safe everyone…
https://www.ouest-france.fr/meteo/tempete-aurore-meteo-france-etend-l-alerte-orange-aux-vents-violents-a-neuf-departements-353c7624-31a2-11ec-897d-2a6a1867e3db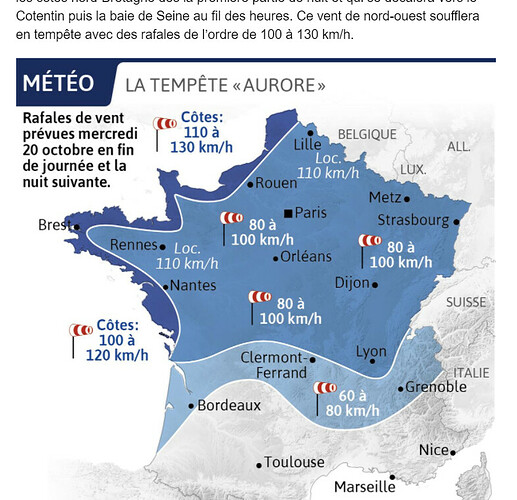 the 2 links have the same topic but perhaps some different local details…
Looks like it will just miss us if it really does hug that close to Bordeaux.


Stay safe those of you in its path.
It's like a hot bath out there… drenching rain and steamy… bizarre…
OH is putting the car into the garage… just as the rain started… he'll be drowned by the time he walks back home… (swims I should say…)
Wish I'd read this earlier! Just had to change as I was soaked to the skin from running out to the line to grab the towels off and then trying to get front and back shutters closed! Went from nothing to torrential rain! No wind so far here.
we'd forgotten the car was beside the house and not safely in its garage across the way… drat and double drat… ah well…
OH is safely home and changed into dry clothing… a little snifter might not go amiss.
Cricky, BBQ just launched itself across the terrace and rain sounds like pebbles on the veluxe, 2 hours ago I was gardening in 23 degrees and sunshine.
Think yourslef lucky you weren't in Queensland, just read about a massive hailstorm there with a record hailstone of 16cm diametre!!!
Here in Manche it went from a Soldier's Gale [F6] for about 25 hrs then Big G turned on the after-burners night before last and we had several hours of a real screamer. Very impressive.
It tore up the bache by the swimming pool that keeps the weeds down.
Morning Captain
Found our small greenhouse in the field !!
Andy
Better check on the thermal underwear…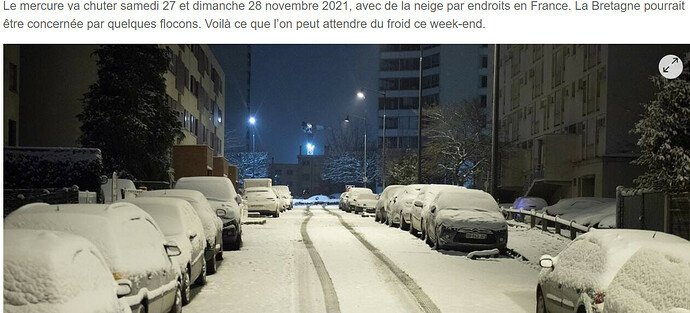 https://www.ouest-france.fr/meteo/neige/neige-froid-et-verglas-se-profilent-sur-une-partie-de-la-france-ce-week-end-48e7ec42-4d15-11ec-83ce-5e90ca0d9a09
It's been 11 years since we had appreciable snow in Lot. But the forecast is now showing snow for next weekend… a massive 0.1 mm expected !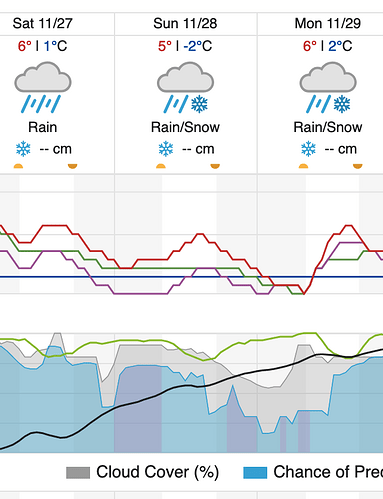 I'm confined to barracks at the mere mention of ice/snow… so I don't want even a smidgen…
I'm hoping it will be some real snow! However I understand that the niege melee rain/snow show like that is just sleet! I still have €35 worth of sleds sitting unused for about 5 years when we were PROMISED snow! I won't hold my breath!
I'm still wearing my shorts, looks like I'll have to try to squeeze into my jeans tomorrow

Good excuse for not going outside to do gardening in my case

Fleur we had massive snow in 2013 here in the Lot. So only 8, almost 9 years ago. It was thigh high (and more) in my garden. The port of Dieppe closed as too much snow - it was piled up to lorry height on the sides of the roads coming out of Dieppe. Southern England was blanketed in snow too.
I know because I did 3 trips in Feb and early March 2013 to UK and back by road in those conditions. I think the year here in Lot with serious snow before that one, was either 2007 or 2006. It was bitterly cold with one period of temps solidly around minus 7C throughout the day. Serious snow. But not the massive falls of snow we had in the Lot in February 2013.
Here's where I was living in March 2013
Another picture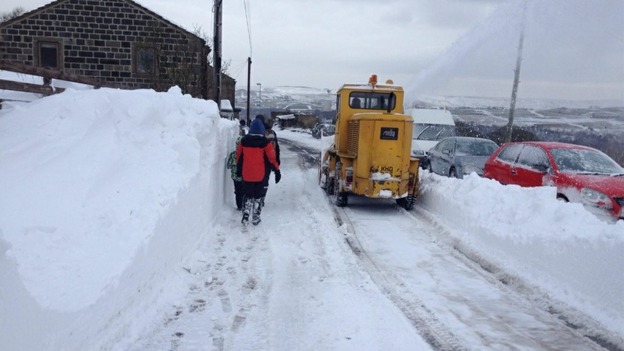 The village was cut off for four days. It was a regular occurence there.