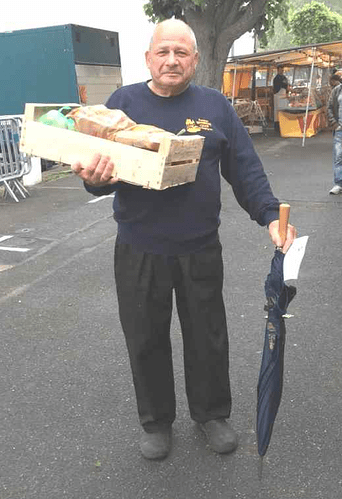 Once again Bryan & Kate Savage have offered to cook a meal in your home for up to eight guests as first prize for our Christmas Raffle. Bryan - as most of you know - is a renowned chef and this summer he has been cooking on luxury boats in the waterways of France.
Victoria Hart a professional travel critic was a guest on one of these boats and had this to say about Bryan.
"Chef Bryan came out of the kitchen at each meal to introduce the meal, and returned at dessert to see how we enjoyed our meal, often with history about the origins of the menu items. As a Brit living in France, Bryan blended both cultures into our food. His cream of chestnut soup with seared scallops, roasted duck breast with orange braised endive and green beans with burnt orange followed by crème brûlée was just one example of what we looked forward to each evening."
Photos courtesy of : Victoria Hart
Last year's winner, Heather B., describes the prize:
"I was the lucky winner of last year's raffle (so I can't say 'I never win anything' any more). The prize was superb: a meal for up to 8 people, cooked and served all at my own home.
I didn't have to do a thing except invite some friends. No shopping, cooking, jumping up every 5 minutes to check & serve food and no cleaning up at the end!
The food was delicious & all my guests said the whole evening was a rare treat."
All ingredients (excluding wine) are included in the prize however it needs to be stated we are unable to provide expensive ingredients such as Scallops, Lobster Thermidor or Filet Steak, notwithstanding that, the "standard" will be equal to that served Victoria and other guests.
A typical menu would be
Char Grilled Asparagus
with Bayonne ham and poached egg
++++++
Chicken Breast stuffed with Black Pudding
served with Tarragon Cream Sauce,
Anna potatoes & Wilted Spinach
++++
Sticky Toffee Pudding & Ice Cream
++++
Cheese
Bryan & Kate will discuss the menu with you beforehand to discover your preferences and any special requirements or allergies. There will be a minimum of 4 courses for each menu choice; entrée, main course, dessert & cheese board; you choose if the cheese or dessert is served first after the main course.
Bryan will prepare and cook the meal and Kate, who is a qualified silver service waitress, will serve you: All the clearing and washing up will be done before they leave so that you can enjoy the whole evening. Plates and cutlery can be supplied if required.
The small print
Prize is for a maximum of eight (8) people
Host / hostess to provide wine and any other alcohol
Distance to be with 40 kilometres radius of Maubourguet unless overnight accommodation can be provided
Prize to be taken before end June 2017
Dates to fit in with prior engagements of Bryan & Kate Savage
EXTRA PRIZES FOR THIS YEAR ARE
SECOND PRIZE
A gift for that special man in your life:
Peppercorn Exfoliating Body Scrub,
Mr Bright Eyes spray
Lip Balm
This beautifully packaged gift was donated by ava-j
https://www.avaj.co.uk/ , Grooming and Clothing products for men, all designed and manufactured in UK.
(We have a promotion code for 20% off any purchase, please contact us if you are interested in purchasing any of the product)
THIRD PRIZE
KITCHEN SCALES
Bright red Kitchen Scales measuring 20cm x 13 cm, taking a maximum weight of 5000g.
FOURTH PRIZE
SILVER CHAIN AND PENDANT
A silver climbing cat pendant on a silver chain, the cat is tiny, only 2cm long but beautifully made.
FIFTH PRIZE 

HAND KNITTED CAT HAT
This fabulous "Cat Hat" hand knitted by Sandy Whitehead sandy@breakaway-to-bearn.com
The hat is adult size Lesley, Margaret and Kate have all tried it and it fits all three.
SIXTH PRIZE
HOME MADE CHRISTMAS PUDDING
And finally a Christmas Pudding made from a 300 year old recipe by our chef Bryan.
Our Raffle will be launched on November 6th and the draw will be take place the 14th December 2016 by Monsieur Jean NADAL Mayor of Maubourguet
Tickets are 10 euro each. Numbers will be made available in batches of 50, i.e. when numbers 1-50 are sold, numbers 51-100 will become available to buy.
The first 50 numbers are available for purchase NOW.
To purchase your ticket(s):
1 Visit our website http://www.aideleschats65.com/
2 Click on "See all the details" in the Christmas Raffle 2016 box on the right of the Home Page
3 follow the instructions at the very end of the information.
Tickets are 10 euro each, numbers will be available in batches of 50, i.e. when numbers 1-50 are sold the numbers 51-100 will be available to buy. The first 50 numbers are available for purchase NOW.
All winners will be notified by email