Anyone interested in the subject needs to research carefully. What is being reported in many places in not correct and the 'headines' are very misleading.
Snowflake marked all season tyres seems a good balance - if I lived in one of the mountainous regions I would have a full set of winter tyres & a set of summer tyres.
I know we've discussed this before… and, like you, we have 2 sets of wheels for each car.
I'm posting the latest News articles plus the French government site which goes into great detail re the latest info… for this coming winter… in nearly 50 bits of France…
I used to have 2 sets but now I just have all season tyres as we so far have not had particularly harsh winters in Gironde since we have been here.
In past winters… we've sometimes seen cars "abandoned" below us… and then seen folk walking/struggling up into the village… to attend whatever gathering… or just to get home…

feels like brigadoon here sometimes…
Yes there's talk of these new tyre obligations. I've driven past dozens of cars on the andorra run stranded on the first snowy ramp with my michelin alpins. In Toulouse the problem is its mostly too warm to keep the winter tyres on for several months. Get a set of michelin crossclimates they have an awesome reputation for a one set does all solution. Otherwise generally normal tyres are better than winter except when there's snow/slush (wet braking is not normally better) or it's below 5 degrees a lot.
Got mine installed in July!


Me. Massif Central. I have had winter tyres put on every year on every vehicle I've had since I moved to the area, so nothing new for me.
On average, we get anywhere between 10 days to 6 weeks snow on the ground at our altitude 520 asl, but last year was exceptionally warm.
I don't live in one of the concerned communes but I work in Luxembourg where it has been compulsory for a few years.
Anyone driving through on their way to the UK or northern Europe should bear this in mind.
Would I be right in assuming that "ou des équipements spéciaux" (from the article) are just snow chains?
yes

I live somewhere in the shadow of the Black Mountains in 81…we have had periods of heavy snow over the years (& almost over the ears, if said quickly,) but at the slightest risk of snow on the roads, I don't venture out, unless on foot.
OH has just worked his way through the gouv fr link.
The detail of "winter tyres" is quite explicit… and 2024 is the date when things will really hit in.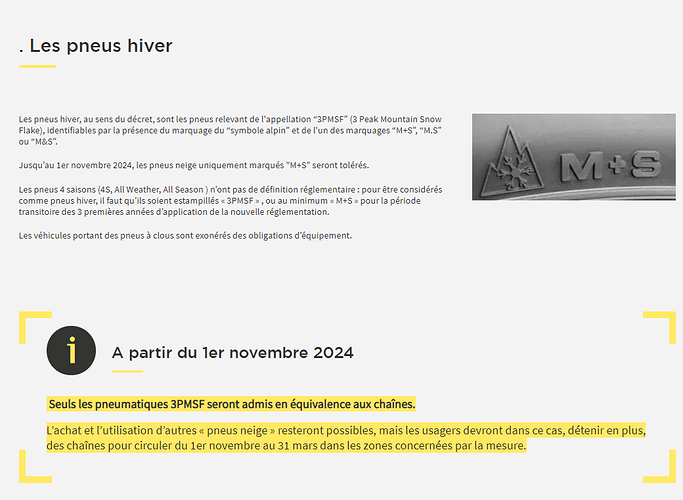 Good question Sue. The article goes on to talk about chains and "chaussettes" which we have. But it's unclear when it talks about 4-wheel drive vehicles.
For those who do drive in wintry conditions you might already have the preferred winter tyres.
I've just checked the winter wheels for our cars… and am chuffed to say that the tyres all have the magic "snowflake with three peaks" … yippee
We certainly wouldn't choose to drive through snow… but have had to make emergency travel arrangements in the past, which has sometimes been in horrendous winter conditions. Nice to know we have the right tyres for the job.
I live on the other side in 11 at about 420m. I've only seen snow once in the almost 3 years we've been here. That lasted about 30 minutes and had melted after 15 minutes.
We also wouldn't venture out in the car with snow on the ground. Where I lived in the UK, we usually had lots of snow in winter which I do miss.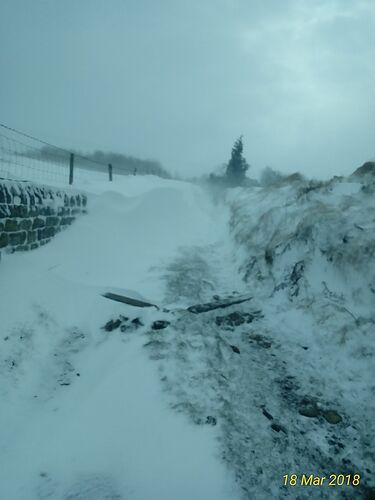 It is interesting, indeed, but now outdated it would seem.
"Posted on 09/11/2019 at 2:25 p.m. • Updated on 06/11/2020 at 9:27 p.m."
The latest links are dated 2021 and talk about this winter season 2021/2022
Here is a brief clip which does mention the "nouvelle réglementation…"


As always, it's up to folk to decide what is needed for their situation … there's often conflicting info and one might well wonder what is the wheat and what is the chaff.