The Waze App (for those who use it) has been updated (28 July 2021). Visit the PlayStore to update.
Graham, do you rate Waze over Google nav?
Yes Chris… I find Google Maps "clunky" in the car - Waze seems so much more clear to use and not unlike the Garmin GPS we used to use.
What I'd like to get hold of sometime is a HUD option…
TomTom really did mess up. Their nav was the best, in my opinion but the U.I and the subscription put me off. And their customer service was 1962 UK gov standard.
For example… way back in the days of Simbian, their W.Europe nav for PDAs [remember them?] was excellent and included a feature where locations could be gathered into folders. This was handy because the locations capacity was only 99.
So I had folders 'The Somme', 'Ypres and the Salient', 'D-Day Beaches' etc.
When they dropped Nav for PDA, they dropped the folders option and despite years of complaints from me and hundreds of others, they never brought it back. The response was always, "We will refer this to our developers"
Wazzat?
PS. My Nav for PDA included the voice of Joanna Lumley. Arriving, she would breath, "Darling. You have reached your destination" and up a blind alley, "No darling! Do a U-turn as soon as possible"
On a trip taking foreign teachers of English round Welsh university faculties, an Italian guy said, "Hey Creees! At least you got one person gonna call you 'darlin'!"
Head Up Display - projects the image on the windscreen
Like this one: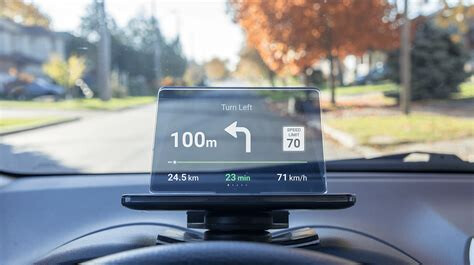 Nifty! I want one!
Not expensive. I was expecting £/€ XXX.xx
A link to the top 9 HUDs for 2021. An American reference but some will be available in Europe.
I prefer Here WeGo maps (former Nokia maps) or Offline maps and Navigation as I prefer the layout and you can download all the maps onto your device and use them offline if you don't have a good signal.
I have tried most of them but keep on returning to Here as I have found it the most accurate and easiest to use, Sygic navigation is another good one and it has a HUD and real view navigation option built in and all are free to download and use.
Tom Tom is excellent, there subscription model is good.
Their method of updating is excruciatingly slow and their customer service is rubbish. In particular their policy of cancelling the SIM card in your device if it hasn't been used for a while and thus forcing obsolecence of older devices is almost criminal.
Having said all that I have used Tom Tom devices for the past 20? years including their Camper Van/Caravan enabled devices.
The fact that I still use Tom Tom is a triumph of the technology over the couldn't care less corporate Tom Tom ethos.
I do use TomTom on my phone, it is very good and at £15 a year for worldwide maps it is cheaper than updating an old standalone device. The map files are pretty big though so can est up a lot of space on your phone.
And yet you still recommend it? Have you tried the alternatives?
A few years back I did a side by side test using TT Garmin, Waze and Sygic.
Waze has an excellent community of users who post road problems direct from the screen, very good and always ahead of Google who use Waze anyway.
Sygic were always 1st with road issues, they have various add ons you can purchase from HUD and real view using the camera on the phone foe augmented display.
My Garmin had free map updates that were pretty useless, the 50mph speed limits had gone from the M25 road works 7 years earlier and I told the customer service desk every update whic would be a total of 21 times!
TT on the other hand were absolutely useless as the updates were for obscure roads in eastern europe and the cost of the updates would have meant you could save the money and buy a new faster, larger memory device every 2-3 years.
Garmin and TT were totally out classed on notifications of accidents etc by Waze and Sygic that are a fraction of the price of Garmin and TT.
On a road closure on route to Dover, Waze and Sygic were the only ones to give the warning very quickly after the road closure and after a day the Garmin began to direct users off the roundabout down a piece of road that would bring them back to the same closure after 10 minutes of driving in a large circle. I could see Garmin units on the dashboards of the cars in front so follwed them just to see where they were being directed to. Garmin was the slowest to advise of the closure on that occasion.
Google maps is a little clunky but you can download the maps required for use off line to prevent your data allowance getting gobbled up.
That should say enough to give an un-biased review of how they perform.
Now at £15 per year for worldwide maps as updates has solved the cost issue you highlight.
Call me old fashioned, but I prefer a map and a certain amount of common sense




Sadly lacking in the majority of people
Old fashioned

We all used to use them and thats why we use satnavs now. They tell you so much more, allow you to keep far more attention than resting a map or A2Z on your lap why you stare out looking for street names.
If only the town planners had that to start with

So do I, which is why I have my Garmin map gently scrolling on its screen, better than keeping stopping and trying to get the map the right way up.
I do set the route on it, but ignore its instructions when I know better. The voice, most annoying whoever it is, has been muted for many years.
Maps are great for providing context and also useful for identifying far off features seen from the car…all identification done by the front seat passenger of course
I have a different issue. The GPS apps I have tried all follow the language of the telephone - in my case English, though I use a French keyboard to make the use of accents far easier when typing. The problem is that the spoken Englishified French place names when navigating is so laughable it's of absolutely no use at all because it needs decrypting whether you're French or English! Tchamps Eleezees for Champs Elysées for example or that well known resistance hero, tortured and killed by the Nazis, Djeen Monnett who has many a street named after him (These both from Google). Is there any GPS app that lets you select the language?