I like the first one Neil, where and what is it?
I recently exchanged messages with @DrMarkH which got on to architecture - we both thought it would make an interesting thread. Before starting one, however, I searched for existing threads, and found the interesting photos above.
The occasion of our messaging was the recent winning of the Pritzker prize by French architects Anne Lacaton and Jean-Philippe Vassal - a most unusual award, but hopefully a sign of changing times, because they resist new-builds on environmental grounds, and try to re-use/renovate old buildings if at all possible.
It is extraordinary for an architecture prize not to go to an iconic new building - and I predict that many will find the work of Lacaton & Vassalir less than beautiful (photos in the link below).
Yet, my guess is that more of Survive-Francers are themselves renovaters, rather than new-builders. Am I right?
'Nine years later' is this an SF record?!

I suppose Pei's Louvre pyramid is the archetypal French example of a successful integration of modernist and traditional architecute. Foster's Reichstag dome might be the German equivalent
https://www.fosterandpartners.com/projects/reichstag-new-german-parliament/
It was intended to (symbolically at least) make the workings of government more transparent (unlikely to happen in Westminster!).
Anyhow returning to France, it's an anomaly that despite the English establisment's) don't know about NI, Scots and Wales) hostility to contemporary architecture except for ill considered City of London towers, the UK's RIBA school has over several decades produced a disproportionate number of the world's leading architects. About twenty years ago, I was shortlisted for the post of their Examinations Officer and was astonished by how small and yet how perfect, was the building.
I think the situation in France is that despite the current Pritzker prize winners, architectural education is not comparable with countries such as Italy, the UK, or US, BUT!, the national and regional commissioning authorities are much more open minded than their equivalents in the English provinces.
Also the French don't have an heir to the throne arguing against any post-classical architecture
A second and very different response to Geof's post.
Like many SF members, we live in a very old house, and not too surprisingly these very old houses and the way we live in them have changed in recent decades. Nevertheless, despite being a foreigner from the 21st century, I still seek empathy with the house's previous inhabitants through obvious elements like the stones of the interior walls around me, the beams (which Imust get dendritically dated) and the head-banging height of the last remaining oroginal entrance.
But more than any of the above, as I start my Spring plantings, which parts of the garden will get the most sun at this time of the year, and conversely, later on, which will get get most shade. Perhaps these thoughts are the ones that change least over the centuries…
On the other hand, you could think, god he's a pretentious t—t
Not at all.
What you say so resonates with how we feel about our house. Nothing special - but an old country house with a pigeonnier. Although not named, it is there to be seen on the Cassini maps and is probably at least 250 years old.
The beams probably came from ships as they obviously had a life before they were used in the house.
Previous houses I've just lived in. This one beguiles and I wish I knew more about the families who lived here before us.
This is the typical Brittany house of Jean-Pierre Le Bail, an architect local to us - he has retained the earth floors downstairs, and maintains they are fine!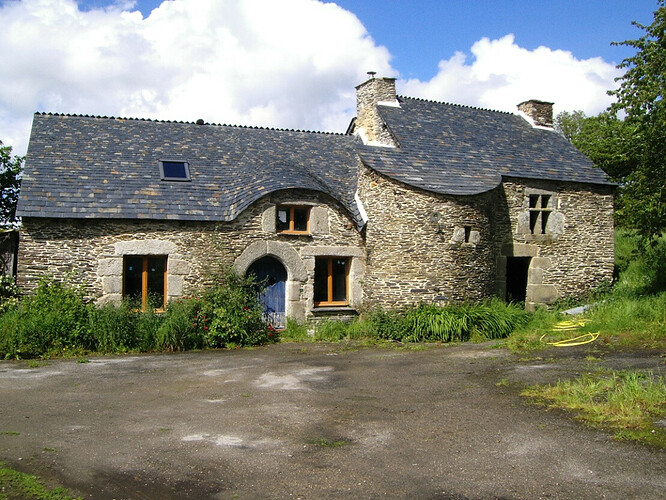 The house is similar to ours, which is about 500 years old - and the photo is from a presentation on architecture Jean-Pierre gave here a few years ago (I can send it to anyone interested if you put your email in a private message - it covers administrative as well as architectural issues - permissions, etc.)
One of our gites - see the resemblance?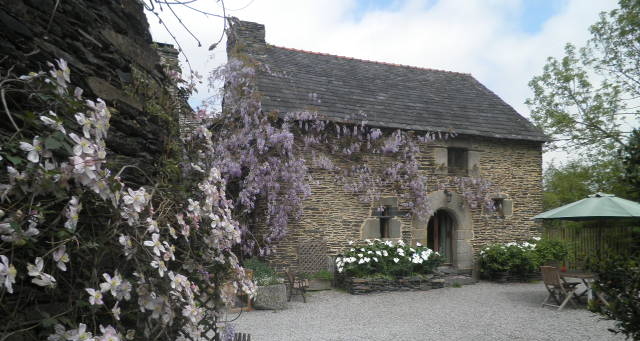 Dendrochronologically, surely?

Bit of an old wives tale using beams from ships. Yes many beams have had a previous life which was usually in the building that stood where or nearby the current construction. Recycling or the current upcycling (I hate that word) has always happened.
A study of mortice holes in many old beams and general markings are typical of timber frame constructions not boat building.
I haven't built a boat but as a Carpenter and Joiner of 50 years I can speak from experience.
It isnt just the timber that was reused, study the old stonework and often you will see a stone with shape or markings that resemble a previous use.
Reused materials often dictate the size shape and design of the old houses we live in today as much as those who claim they designed it.
Thanks John. Interesting to know. One of the reasons why the tales seemed credible is that we are not that far from the Garonne and there are tales of ships not being able to get further up the Garonne - the height of the river between winter and summer is dramatically different - and so the ships were broken up and the timber used. Or maybe not?
Why not if they were to hand?
In both our house and one of our gites the stones around the fireplaces are pretty obviously re-used from earlier buildings - instead of being symmetrical mirror images, as you would expect from stones either side of a fireplace, they are identical, and 2 are elaborately carved - rather too fancy I think for the rest of the construction. Also, they are pink granite - the rest of the house is the normal local grey granite or slate. I've a fancy that they are re-used Roman carved blocks (we are not far from extant Roman ruins).
The house was built at the same time as the chapel next door (see below) which also features the odd incongruous stone inside.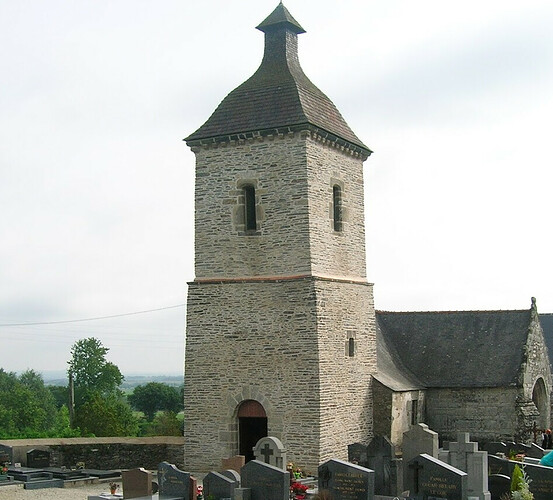 I now live in a sixties house, which was built in two halves as the family grew.
I used to live in Warton Hall, where Sir thomas Kitson was born in 1485. He made his fortune in wool and went on to build Hengrave Hall outside Bury St Edmunds in Suffolk.
We renovated the fermette buildings and attached them to the 'new' house and they became the gite, with wonderful A frames in the bedrooms.
You can see the results on www.relax-in-rural-burgundy-co.uk including Jim's hand-built kitchen.
In the circumstances you describe then yes a possibility as close at hand. It must be remembered that size shape and length of ships timbers are not directly transferable to house or other buildings.
The idea of ship timbers being hauled many kilometres inland for reuse doesn't work. Local materials were invariably used. Cotswold cottages are not built from Yorkshire stone.
One exception to that is the Houses of Parliament are built from stone Quarried in Yorkshire!
The problem with some of the stone used there was that the local masons didn't understand Yorkshire stone and some was laid up side down.
The stone was originally formed in layers and if the stone was laid with the grain angled upwards the water gets in and the stone perished.
Knowing the character of timber is just as important.
Thanks for the link Jane - that's just lovely! And the kitchen is gorgeous.
I will tell Jim. Thank you.
Again, how interesting John.
I can vouch for the proximity issue. Our buildings are perched on a sandstone outcrop, which means that some of the blocks used to build the house and our gite are very friable and they shed sand all the time.
Then bizarrely, it seemed, we have the one remaining wall of a huge barn which was built of flints. Just didn't make sense until an elderly farmer told us there is a small (now derelict) flint quarry among all the clay and sandstone fields just 5-6 kms away.