This is ours -
In the evening we often don't have any connection at all.
Since recently or has it always been like that?
Just since the 'lockdown' started James. We have a Bouygues 4G box which is okay but the speeds are variable, anything from 1Mbps to 15 Mbps.
I've just tried 3 different speed test apps/things. Download varies between 1.0 and 12.5mbps, upload between 1.0 and 35 Mbps, ping between 25 and 355 ms.
Bizarre…
I've noticed a drop-offline every morning only brief but annoying… and my computer seems to take much longer to do what I want…
However, downstairs we watch on-line films after lunch (only the free ones of course) and the signal does freeze a few times but not enough to worry us… depending on how much wine we have enjoyed…
not very good for anyone trying to work… with deadlines etc…
(when/if the world returns to normal, we won't need on-line films, but it is helping with our sanity at the moment)
Network usage certainly up and consequently widespread drops in speed.
@James - do you know if your "sync speed" has changed?
By all accounts, we are not doing badly with the Bouygues 4G box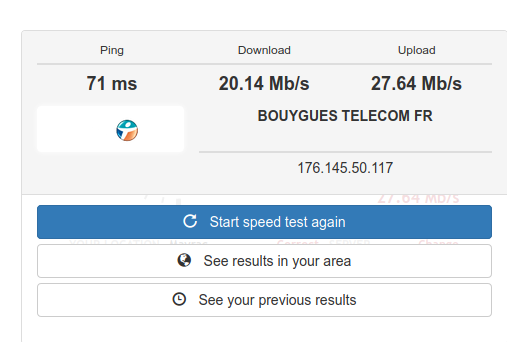 Evening usually sees a decrease though.
We've noticed it in sound and video transmission quality (Skype, Hangouts, Facebook Messenger, Whatsapp, etc).
Other than than that, the internet connection speed is pretty bad here anyway most of the time. In confinement , it has just become even slower than usual ! Higher contention rates means bandwidth management for those at the ends of the copper lines…
wow… Alex
thanks for this link…looking up my provider explains our hiccups…
Stella, it is my go-to site for checking when things get really bad…
Normally very slow here, because we are at the end of a very long landline, but since lockdown we have been losing connection completely on a regular basis.
My guess is that servers are overloaded with people working from home and recreational users exchanging videos.
No good blaming your ISP. We will just have to learn to live with it. The situation will only improve when people start to go back to work, because it is unlikely that anyone is going to install extra hardware that will become redundant in a few months.
.
Ours is ok first thing in the morning, and useless from early evening. Normally we blame Cedric who lives at the top of the village and is an incessant gamer…but it is worse than usual I guess due to the number of people at home.
Alex… OH now tells me that the Downtime Site is bookmarked on my other computer… my old one which I use "off-line" specifically, to guard my precious stuff for posterity…

I've now got it bookmarked on this computer (my new one…) phew
Coincidentally it's just shot back up to 4mbps!
You are lucky to have Broadband at all.
There are 15 houses around us that have had no Broadband since the 15th December.
This is coming to you via a sim card in the back of the router.
Whilst out takinf her exercise came upon an Orange engineer who said that they were trying to re-route our service via another village.
Our own Commune and the nearest village have also been badly affected since the 15th December.
Connection speed
1st question if speeds are down is "is it my link to the network" or "the network" - if the former can report as a fault, if the latter not much to do than hope Orange sort it out.
If you have a Livebox it is relatively easy to find the connection speed.