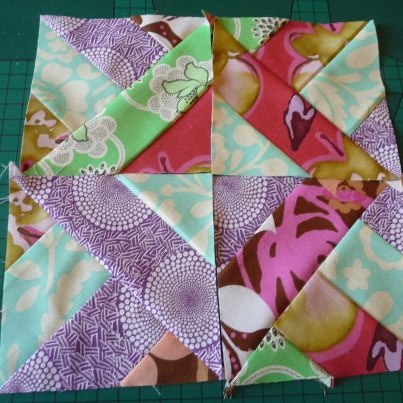 We've all seen Kirstie Allsopp in action in her recent programmes doing her handmade/ vintage thing. She seems to have tapped very successfully into the nerve centre of all us would be crafters, and has started the creative juices flowing. But has she?
I have been busy trying to set up a craft group in my area, and we meet for the first time this year on Wednesday.
We are around 7 in number, but it has been a real uphill battle to get any interest going.
I feel one primary reason is people have seen Kirstie effortlessly knock up a felted jacket, flower arrangement or stippled sideboard and they feel they really don't measure up to the task. I totally disagree!
I have put up a photo of a quilt block made by our group before Christmas.
I provided the materials and a You Tube video and asked 2 members to put this block together.
Neither of them had ever done any quilting, and one of them (in her mid 40's) had not used a sewing machine since she was in school!
I kept the coffee and biscuits coming, and this is the result of their efforts! One of them has gone on to make a full sized bed quilt just from this one little craft activity.
I have a friend who is thinking of joining but, over coffee the other day, she said "The thing is, I'm not really crafty"
Fair point I thought. She then went out into the kitchen and came back with two, handmade "tooth fairy cushions" she had made by hand, with no sewing machine for two of her grandchildren. Oh yes, they were embroidered and edged with lace as well.
Need I say more?
There is a crafter in all of us, and we need to let our inhibitions go and just get stuck in to whatever takes your fancy - be it a bit of woodwork or a lace mantilla - anything goes, and there is nothing quite like the thrill of making something yourself from start to finish.
Despite the fact that we have been few in number and only had a handful of meetings, we have made between us:-


Draught excluders masquerading as rattle snakes


Old fashioned hobby horses


crochet afghans for the bed


shawls and ponchos


vintage greetings cards and boxes


a full sized bed quilt


curtains


We plan to do a lot more, and the fun is doing these things together.
We plan to do some charity work, some clothes swapping and lots of gossiping!
Why not get a group going in your area or join the Knit Knatter and Stitch Chatter on SFN?