What confuses me is that the table of tariffs seem to contradict the information on Ameli:
the first link does say
If you are entitled to this new 100% via your Mutuelle and choose the products therein… that is entirely different.
Not bothered about the cost just need a dentist! Can't find one taking on new patients in Cotes d'Armor. Will urgences in Brest help us if necessary?
Ah… perhaps Dentists in C dA might have been a better question…

sorry can't help with that
good luck
Thank you Stella, we'll keep trying.
The acts that are in the 100% santé basket don't cover everything one might want to happen inside your mouth, and are the most basic of things. Perfectly fine quality (like OH's 100% santé 30€ glasses) but not the highest. And it also depends on your mutuelle cover as to whether you get the full reimbursement.
So lots of things not covered…… and outside this basket of things your dentist can charge dépassement honoraires too.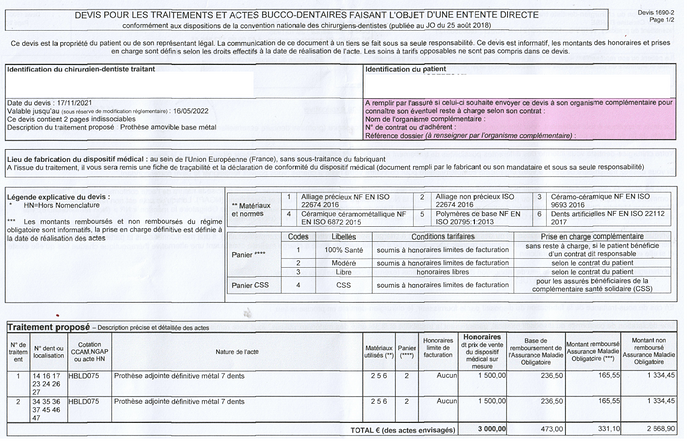 I thought that since January, it was mandatory for any quote to include an option that is fully reimbursed.
This does not appear to be our recent experience, as shown in the attached doc.
BTW the dentist in question is listed as 'sector 1'
100% santé only covers basic crowns, bridges and resin dentures. So it may well be that prothèse metal aren't covered by this at all……. Ask your dentist if what is proposed can be swapped to something that is covered; resin denture perhaps?
I saw that somewhere too. It was either covered in a Que Choisir article, some of which are readable by non-subscribers if they are on social issues (I don't have a sub but will get one as soon as finances allow, but I get their emails), or possibly 60Millions (tends to have lighter coverage).
Surely CPAM, possibly the English-speaking CPAM line which has appeared in posts on SF, could explain? Or a bit of French googling? I am sure I've seen the 100% thing too.
Yes, but it only covers a limited range of the most common requirements,