At 2200 tonight, lovely pic B'

I wonder how many wild species we have in France, we are so used to find them in garden center !
Beautiful to see such flowers growing wild V'

I know nothing about flowers or plants or gardening. I thought this was pretty so took a photo. No idea what it is though. Taken in January at Cap d'Agde.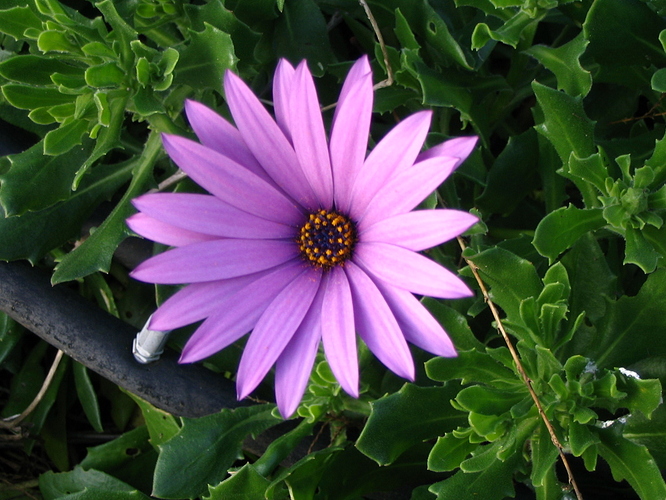 What a collection Graham, must be a real treat going for walks around your home !
Lovely flower Mandy, looks like an Osteospermum (african daisies)
I think that is one I used for ground cover in Portugal Mandy, does it close at night, I would like to find some here, it was brilliant for crowding out the weeds

I only saw it briefly during the day. Cap d'Agde is on the south coast where the climate is, perhaps, more like Portugal and I saw it in a sandy area.
Sounds right Mandy, it thrived on a very poor area in my garden there, practically desert!

I love Portugal Bill. Only been there three times on holiday sadly and would love to return. It was like returning to the past a little.
Twice I went to Carvoeiro (must be 20 years ago as we used escudos) before it was a massive tourist area. They were still talking about a new road being built on the Algarve back then to make journey times from Faro airport shorter. We made a point of exploring all the local rural villages and my Dad decided to get his beard cut in a village barber shop despite not speaking the language. The barber almost took the whole thing off and Dad was a bit alarmed but he did a great job.
Where were you Bill?
On the R. Guadiana, near an old town called Mertola, the village was Pomerao (both on google), I rebuilt an old place, mud walls, bamboo ceilings pan tile roof, with a great view of the river, which is the border, so Spain one side Portugal the other. First time there was in Salazars time, on, a yacht, normally yachts didn't call then, but had to do repairs after a storm, on the way to Gib'.
It was a nice place with nice people, spent about 5yrs there, bit 'ot in the summer though.
Visited a lot of places with the boat, and inland too with the Disco' and the Yam XT 600, I had then, which was ideal as there are a Lot of dirt roads.
I've never seen one like that beforen what is it Ken ?