For those interested - includes a revised calendar (Covid19 willing)

Phew… sisterinlaw will be over the moon… (I prefer old crocks

)
Mercedes are paying tribute to Stirling Moss this weekend's 70th anniversary race at Silverstone.
The late, great driver sported the horseshoe emblem on his early Cooper cars.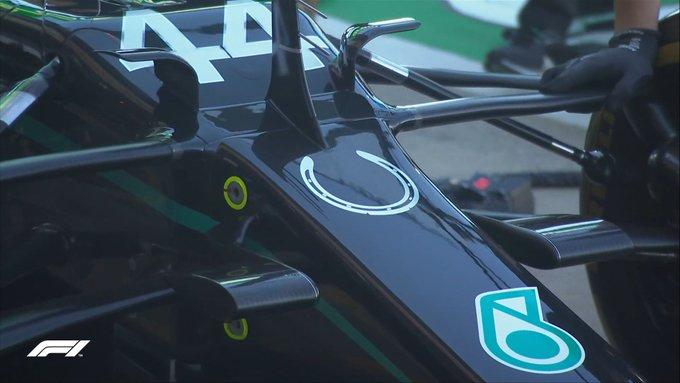 If we have to change our cars to electric why is this circus allowed to continue?
You obviously don't understand the amount of research that goes into the development of F1 cars… there have been (and continue to be) significant advances in hybrid technology on the race track which have filtered their way through to the cars generally available in the retail sector.
What is a great disappointment is the number of people who keep their old decrepit carcinogenic producing pollution carriages on the road whilst dissing genuine attempts at improving the environment - I think yours is an ancient Mercedes from what you said in another thread

There's also electric GPs Jane. Pure boredom as as silent Scalextric cars swish buy - they'll probably be self-driving soon -or piloted, like drones, from some bunker.
The bark and howl of an ICE at full chat is the very essence (pun intended) of motor sport. The induction roar, the screaming of gearboxes pushed to the limit, the comforting smell of burning rubber (as the Tubes almost sang) and the satisfying thump of carbon fibre against the barrier. Now that's motorsport.
ah yes, another innovative development which has found it's way in to the retail sector to reduce weight and therefore fuel (oil based or electric) enhancing the usefulness of modern transportation away from dinosaurs both human and mechanical

Yes I do.
But times are changing and to fly around the world with all their teams etc. is just not on nowadays.
There is an English chap not many kilometres from me who drives one of the trailers containing these cars and he goes all over the world for months at a time.
Well, of course, white was the colour of the German GP cars, the equivalent of British Racing green (which is actually Irish racing green) and French blue and Italian red. etc. But the wily old Germans stripped the paint off all their cars in the 30s to save weight. If I remember correctly. They were not silver, they were a dull aluminium colour.
Anyway, IMO MB's job is to build cars and to remain political neutral, I see this as tokenism.
Including faux carbon fibre as a chic trim option

I was on the autoroute a couple of years ago and came across the Mercedes convoy going from some GP to the next, or maybe that have two that rotate, I don't know. But the preparation of the trucks was a sight t behold. Beautifully finished and despite the rain, spotless. They may be based at Silverstone, Graham may know. We were in the Morgan like drowned rats, gosh they must have larfed

pre covid the calendar was arranged in a travel friendly way in order to minimise cost and disruption and during the present crisis, they are running races back to back on the same track, again to minimise risk, so I believe they are acting responsively
which goes to prove my point about acting responsively…
add to this tyre development conducted in a safe(ish) environment of a race track as opposed to the M25 with boy racers

They shouldn't be doing it at all.
bit like you shouldn't be driving an old polluting diesel merc either…
something about pot kettles and people and glasshouses

We now use it about once a week and it passes its exhaust test with flying colours!
And talking of flying we don't!
In that case you should stop all worldwide competitions in all sports.