Can you please please please start delivering to Dax?!!
My partner says it's this Jamie Oliver recipe, but she doesn't cook it for as long as he suggests because she said it's too thick otherwise. Also she blends it so it's smoother than the chunky chutney you see in the photos.
Will try and get as close to it as possible!
Thank you! She's a girl after my own heart, I don't like too many chunky bits either!!!
Can you make it next holidays so I can order too



Well what a delicious meal! Beautifully spiced, lots of whole spices and chillis. Nice and hot but not too hot, very very yum! We weren't able to eat all of it so I had the left over daal in a wrap for lunch today and hubby the veggie curry- YUM! Yes it was a bit of a drive for me (35/40 minutes each way) but an easy drive mainly though the woods, I'll definately be making it a treat each holidays! Too far in the opposite direction for term time!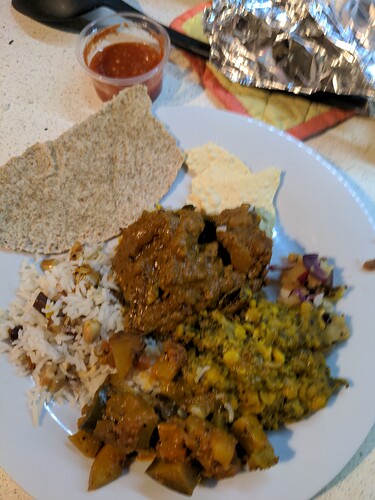 I must admit I was slightly taken aback to discover that Imtiaz was not a lady




which prompted me to look more carefully at his avatar photo!
He was however absolutely charming, we did have a chance for a quick chat but he had people coming in regularly, obviously very popular so I didn't stay long. He helped us all to our cars and safely installed the bag of food in the foot well! Food was packaged in foil containers and heating instructions for each dish emailed through. If you live in striking distance or are passing near by on a Friday afternoon well worth having a delicious takeaway in my opinion! Thanks Imtiaz see you next holidays!
And no I'm not being paid for this post, I'd have said if it was rubbish too




Thank you Tory. This is so good. It was a pleasure meeting you and Remi and having a chat with someone who has always answered my posts and offered support on SurviveFrance. Will be good to meet again.
As always greatly appreciate how invaluable your comments are to my posts.
Best regards
Imtiaz