Making worktops from concrete does sound a bit odd and it's certainly not the first material that springs to mind when you are selecting a worktop. However, for the DIYer it's a great choice; it's durable, unusual and reasonably cheap and simple to produce.
Now, I'm going to show you how. Basically we'll be making a mould for the concrete from melamine, that's the stuff basic kitchen cupboards are made from, it's chipboard with a very smooth finish applied. That finish is what makes it ideal for this application; you'll see why in a moment.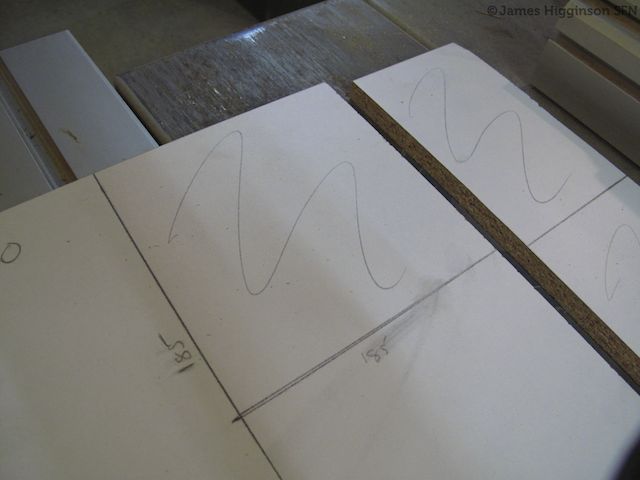 The mould can be any shape or size you want within reason, the main constraint is the weight of the finished piece. It's best to limit each section to what can be comfortably lifted by two people. This small section will actually be a bench seat and you can see I've used a piece of flexible perspex in this corner to round it off. You can also include cut outs for taps and sinks using sections of pipe and various other techniques.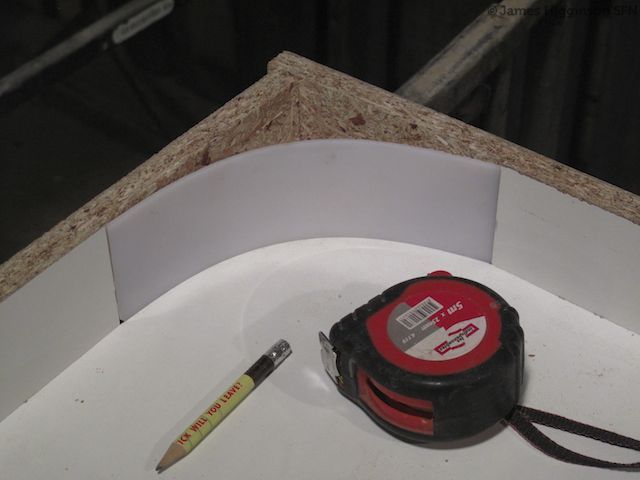 The melamine mould has simply been screwed together using 50mm screws every 20cm, making sure all of the screw heads are accessible from outside the mould as we'll need to remove them later. (Taping over them at this point is a good idea as if they get filled with concrete slurry they will be difficult to remove later).
These moulds are 45mm deep, apart from the bench which is 60mm deep, about the minimum really. Any less and the worktops would be liable to crack.
Concrete has quite poor tensile strength, meaning it does not like to flex; this is why it needs to be reinforced using steel reinforcing bars which are readily available from any builders merchants. Here I've used 6mm bar to form a ring and some 6mm 'trellis soude' in the center. I've wired it together and if you look closely you can see it has also been suspended in the mould with wire hangers. This is to stop it sinking to the base when we pour the concrete. We need the rebar to be at the top of the mould or the bottom of the finished piece when we turn it out.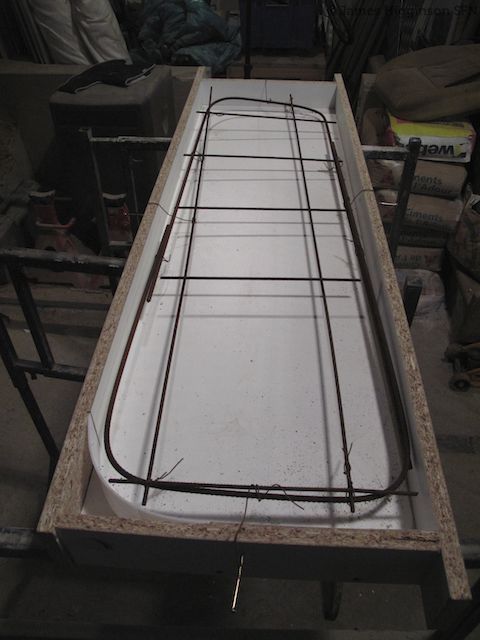 If you want, you can add items to the mould at this point, stones, glass and gemstones are popular and look good. Here I've added an old car part. Objects with a flat side work best.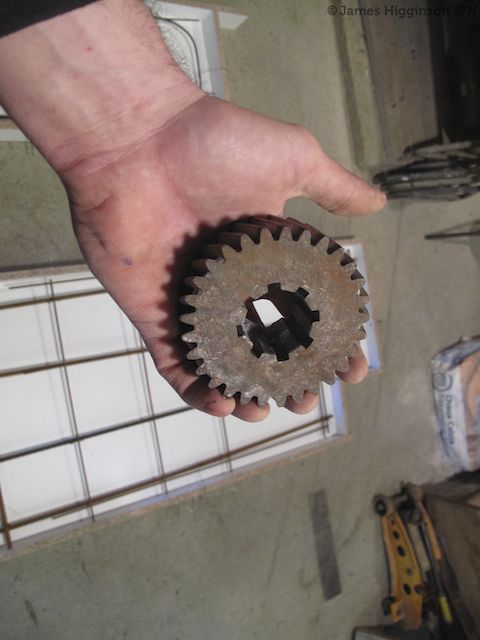 Place them in the mould. If you're using small items, pieces of quartz for example, use spray adhesive to hold them in place.![](upload://pwCk7JOBijllUmp9H6tenQykVUZ.jpg)
Mix the concrete in a mixer if possible, if not, use a drill attachment. Make sure it is well combined. In this case I have added black pigment to a standard concrete mix.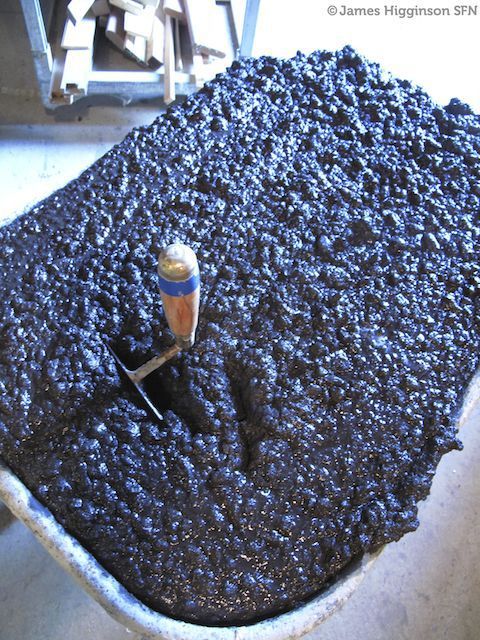 Using your hands push the concrete into the edges of the mould first.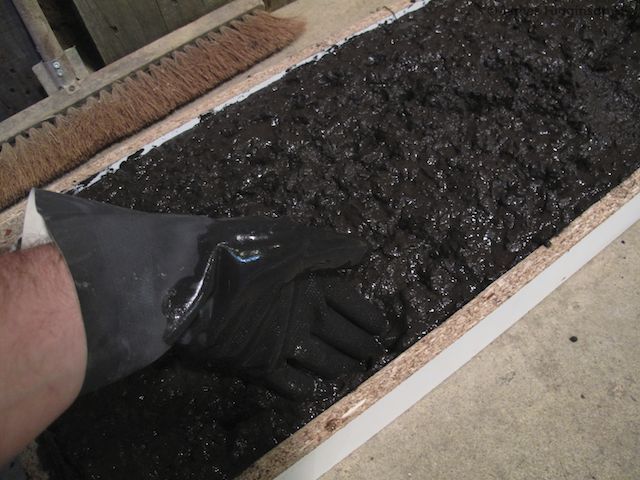 Use a hammer to tap the mould all around, this will help to expel any air pockets which would create voids in the surface. A palm sander works well for this too. Screed off the surface with a straight edge.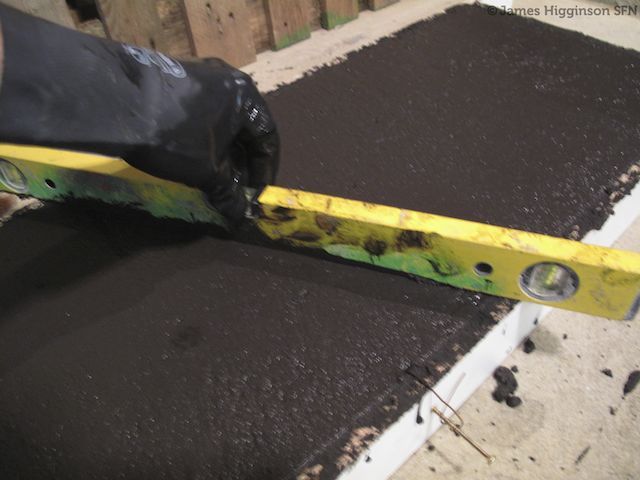 Make sure your moulds are left to cure on a completely flat surface. If it's not completely flat, the weight of the concrete will bend the moulds to fit the surface you placed them on! Leave them to cure for at least 4 days and don't move them in the meantime.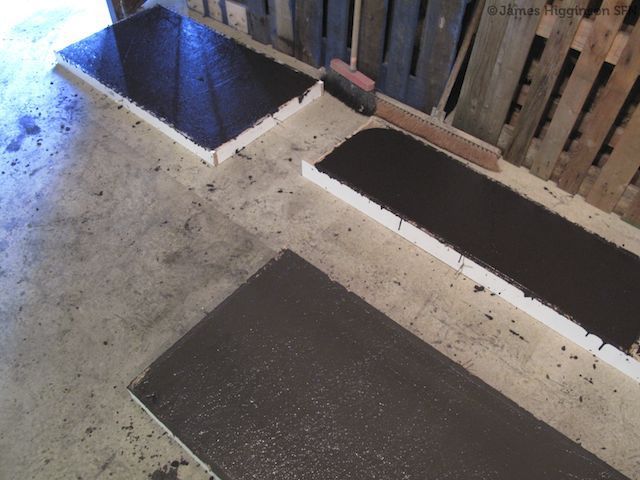 After at least four days, carefully remove the edges, the concrete will still be green at this point and prone to damage. Concrete reaches 90% of it's finished strength at around 30 days, so feel free to leave it longer if you are concerned about chipping the edges.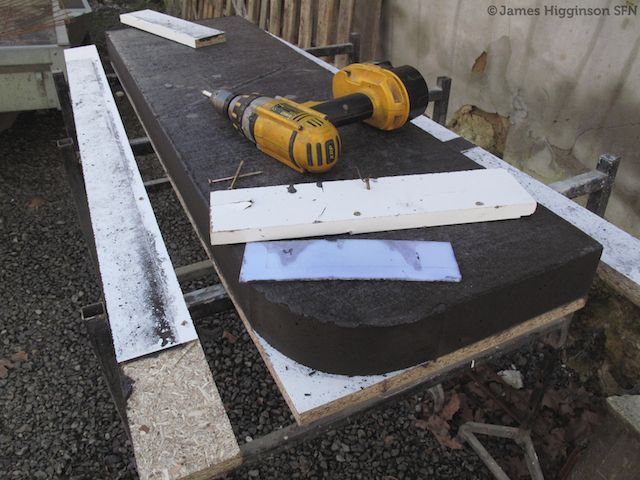 Tap the edges of the base until it freely slides away from the concrete. You can then (carefully!) turn over the piece. Place it back down on the melamine to support it. You can see the gear cog and a small piece of quartz that I placed into the mould.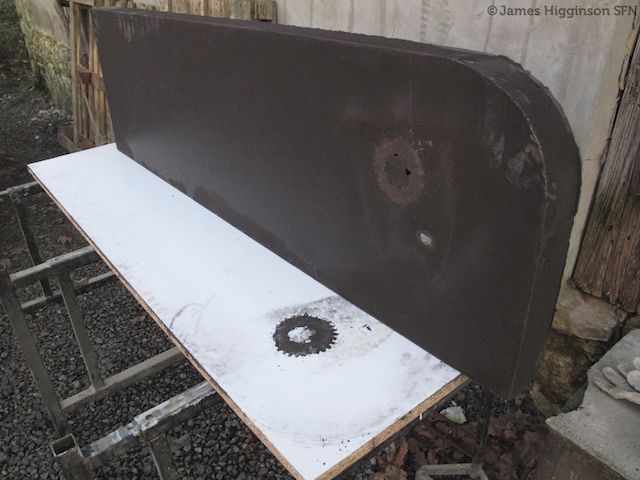 This is the point where you will need specialist tools if you want to polish the concrete. The smoothness of the melamine is such that you could just leave it as it is but polishing will expose the stone from the concrete mix as you will see. I'm using a hand held wet grinder; you can hire these. You will need one with a variable speed adjustment (it should also have a ground fault protection relay), and various grades of polishing pad. In the first instance I am using the diamond cup wheel to remove the surface of the concrete and expose the aggregates, just one or two millimetres will be enough.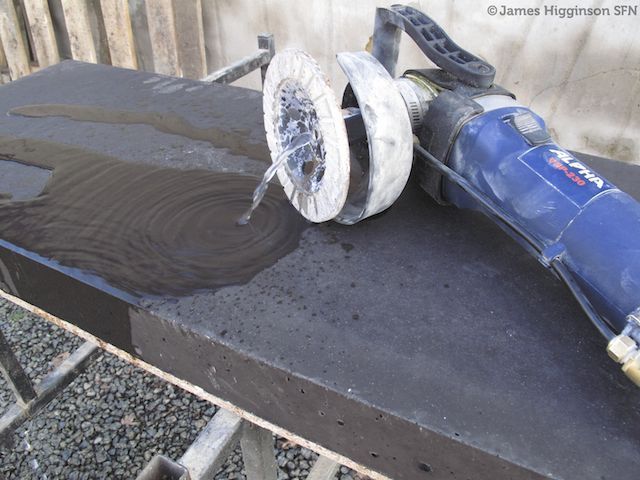 After just a few minutes I have removed enough of the surface to start polishing.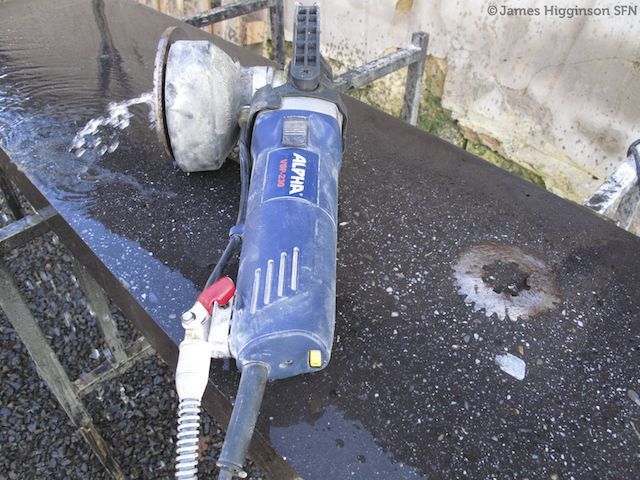 After using the cup wheel, I have a further 5 grades of diamond polishing to complete. This will give me a nice smooth finish. Further, finer grades of disc will eventually provide a glass like finish akin to polished marble! I won't be going that far today.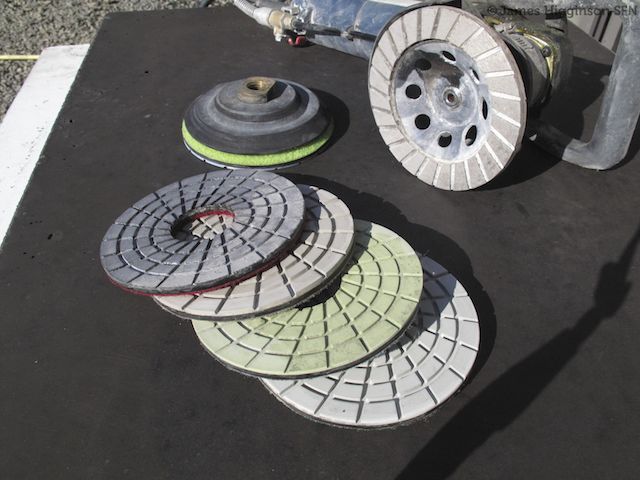 For this size piece each grade takes just a few minutes to do. So after about half an hour I have my finished piece. It's obviously soaking wet, so leave it to dry out for a while before you carry it inside. If you intend to seal it, depending on which product you choose (Epoxy resin for example), you may have to wait for the full 30 days for it to be dry enough. Some applications (such as this one) don't require treatment as they will not be exposed to spillages.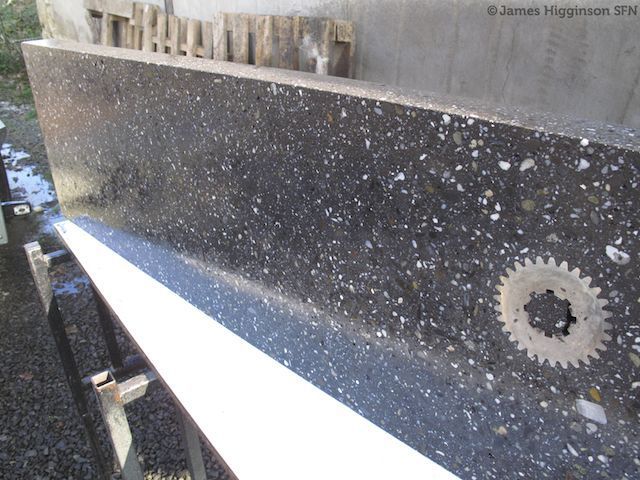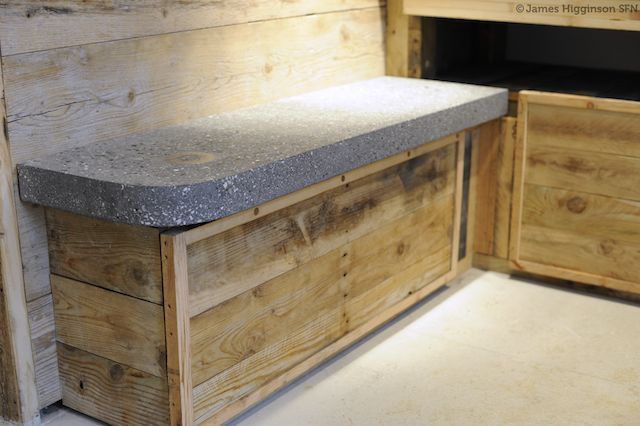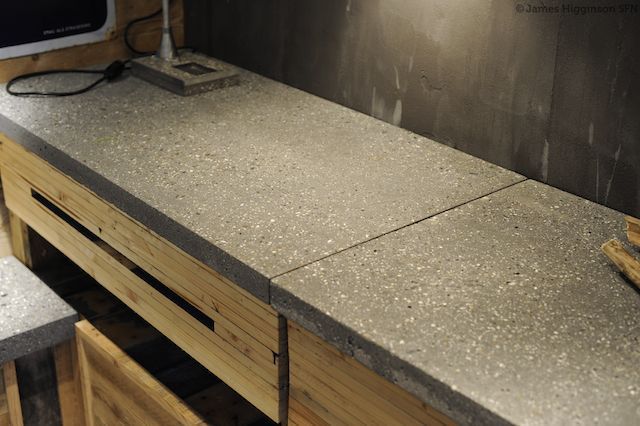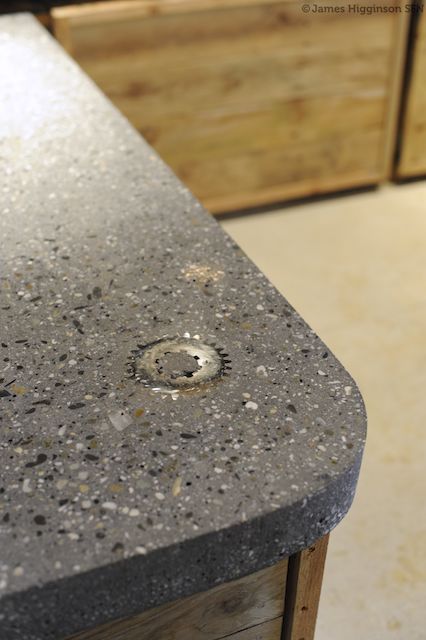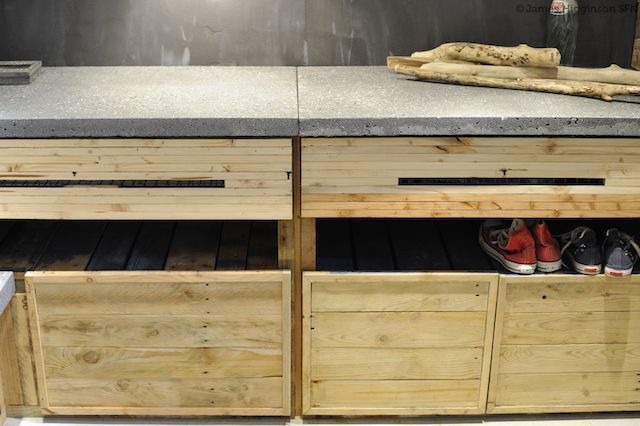 As regular readers will know I'm a big fan of this semi industrial look. Would you have a go at making a worktop from concrete? An outdoor kitchen would make a great first project don't you think?
Thanks!
James
You might also like - Making a table from discarded pallets and if you want to know how the cupboards were made from some old pallets you can read about that here too.