I have read the threads on tiling on tiles - I have even contributed to them because I've done it. This is slightly different - tiling on a ceramic shower tray.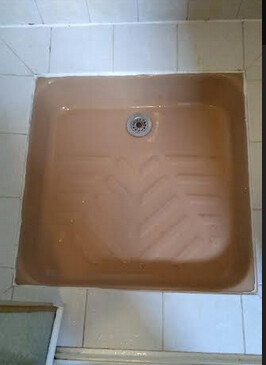 This 'orrible thing has got to go. but it can't go by being removed [It really can't. It would be a nightmare]. It has to 'go' by being covered by something else. My brilliant wheeze is to tile over it with mosaic, from wall to wall.
I reckon mosaic mat will take the curves, down from the outside, surrounding tiles, into the tray - it's used that way in swimming pools.
The question is - what to do about the raised bits, supposedly there to give a secure footing but in fact more slippery than the flat bit?
I thought maybe to lay tile cement into the 'valleys, so that the end result is all at the height of the raised ribs. Then lay the mosaic on that. I do have the jollop recommended for giving tiles a surface better able to take another layer of tiles…
Any ideas?