Towards the end of a difficult stay in the UK, I had a Koyaanisqatsi moment on the motorway. You know: that film of time-lapse photography produced by Francis Ford Coppolla, depicting a world alarmingly out of balance.![](upload://1TrjVAx59z72lx6b9M6OLqsiaVq.jpg)
Maybe it was the cumulative effect of following Jane Campion's bleaker-than-bleak thriller, Top Of The Lake. Nothing I've seen before has depicted quite so relentlessly mankind's propensity to despoil paradise.
More likely, though, it was our family 'holiday'. A long week of day returns to Southampton General hospital, a city within a city full of sound and furious activity signifying a collective battle against insurmountable odds. For all the laudable attempts of the National Health Service to promote the benefits of a healthy lifestyle, the forecourt was always crowded with patients wired up to portable life-support systems, nipping outside for a crafty fag. And there's a Burger King in the ground floor 'shopping mall' to cater for visitors who get peckish at the bedside of their loved ones.
My mother has been inside this centre of industry for over six weeks now. My two sisters have been taking turns to bring our father in for three-hour visiting vigils. My brother, it seems, 'can't cope with hospitals'. Until recently, our mam was in one of the geriatric wards, quite happy in a way, sandwiched between a woman who berates the hard-pressed catering staff for bringing her food that she denies ordering, and a woman who has been plugged into a machine since a heart attack failed to carry her off to a better place.
Every afternoon, this woman's daughter would sit by her bedside, holding the old woman's hand while she punctuated her big sleep with groans that suggested life (of sorts). One afternoon, my wife placed an empathetic hand on her shoulder and gave her a naturopathic look – whereupon the poor woman burst into tears. She has been coming every afternoon since the beginning of June, with no real hope, but a strong sense of love and filial duty. Three times a day, a catering assistant brings food prepared in the bowels of the building. Three times a day, the untouched food is presumably scraped into a black bin bag. I calculated that if the wasted food from every hospital in the land were collected each day, it would feed the entire population of Scunthorpe. No wonder Britain's national debt leads the world.
Anyway, my mother was doing quite nicely thank you. Thanks to the miracles of allopathic medicine, she was prevented from slipping quietly away via the back door. They regulated her sodium level, reduced all the excess fluid that her failing heart couldn't pump away and gave her the liquid nourishment that she was refusing to take in solid form. Visiting time was a matter of holding her hand, exchanging smiles and skirting the issue of what happens next.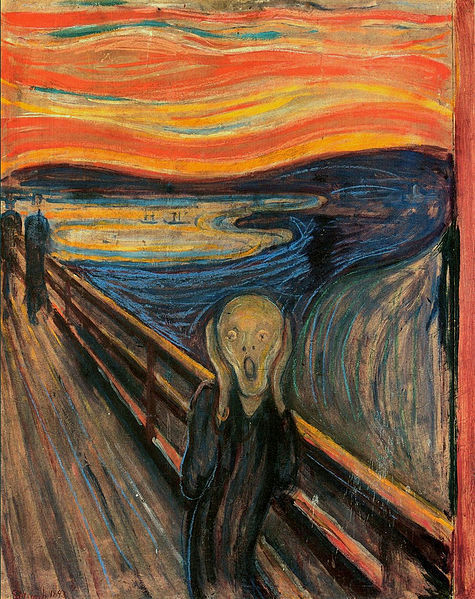 But then on Sunday night it all went pear-shaped. She got out of her bed in the middle of the night – a bed which surely should have been barred like a baby's cot – and fell in a crumpled heap. She broke her hip. Thereafter, the holiday turned into a trip to Dante's Inferno. It was the sudden silent and agonised facial contortions reminiscent of Edvard Munch's 'The Scream' that were the hardest to bear. Trying to impress upon someone the need to keep still is futile in the face of short-term memory loss.
Perhaps fearful of American-style litigation, doctors and nurses clustered at her bedside. A huge bumbling surgeon called Freddy from somewhere like Slovakia, whom I had surely seen before in a Mel Brooks film, turned up to deliver a Ladybird guide to hip operations.
The next day, my father went along for the long wait while she was in surgery with MP3 player and Sunday-best clothes, as if mentally prepared to say his last goodbyes. Since my mother weighs no more than a sparrow now, they gave her an epidural rather than risk a general anaesthetic for the insertion of the metal bolt or whatever it is they use to mend bones.
Somehow, against the odds, she pulled through. The next day's vigil, however, was like a session with the Spanish Inquisition. Whenever the medical team came round to administer painkillers or to change her position in the bed, we were ushered into the corridor from where we could still hear her cries of No! No! Oh please don't. All I could think of while holding her hand as she writhed in her bed was Doris Lessing's maxim – that if all the suffering in the world were to give off a toxic cloud, it would pollute the universe.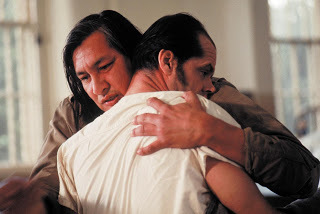 Since our escape to France, we've been steering The Daughter through some of the films on the comprehensive list sent by her college in preparation for Year 2. The other evening it was One Flew Over The Cuckoo's Nest. When my namesake, Chief Will Sampson, snuffs the life out of a lobotomised Randle Patrick McMurphy, I couldn't help but think that I should have administered the pillow to end my mother's suffering. My sister Jo had felt the same impulse – but neither of us could face the prospect of the next ten years banged up in the high-security wing of HMP Parkhurst. Better to find some kindly doctor with a syringe full of something quiet but deadly.
It was on the M27 en route for the Newhaven-Dieppe ferry, when I had my vision. Koyaanisqatsi – if I remember correctly – is Hopi Indian for 'life out of balance'. We were approaching the turn-off to Fareham, capital of the bleak no man's land between Southampton and Porstmouth. Above us, a constant procession of cars, white vans and lorries crossed and double-crossed the motorway. Suddenly, briefly, it all seemed so aimless and futile. What on earth are we all doing here on this planet? Where are we going? Is it simply a matter of T.S. Eliot's birth, copulation and death?
Back home and a thousand kilometres or more from Southampton General orthopaedic wing, I was walking our dog the other morning down the rocky track that leads to the nearby hamlet. A car came reeling towards us. It was the farmer who feeds a colony of feral cats around the back of his house. Had I seen his flock of sheep? They'd wandered off and he'd had a call to say that they'd eaten all the lettuces in someone's kitchen garden. I hadn't seen them, but smiled inwardly at the thought of their campaign of vegetarian terror. While the sheep will wander, the world doth turn upon its axis. At least my own life in my familiar little world was back in some kind of balance.