Must confess, Limoges has always been a bit special…
It's a lovely station and I've spent many hours there, but less sure about the city's other architectual merits. And don't get me started on public transport to the airport! Tho' I do have a nice Limoges' airport anecdote, but need to check that I've not previously posted it - late at night and an elderly fading brain!
Despite all the above, our dinner service is white Limoges' porcelain (collected bit by bit from a stall on Figeac's summer markets).
For me, the discovery in that area was Brive, which once was just somewhere to drive past en route to the Aveyron. Previously, I'd only spent hours in the station having switched from the TVG to the much later and slower local train. It felt like being in some French movie from the Fifties that had been filmed in real tiime.
Not a huge fan of Limoges myself, but I agree the station is beautiful. I also like the hotel de ville too.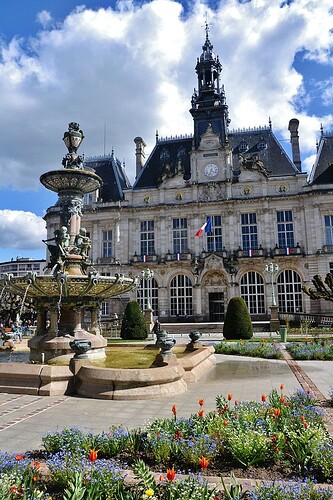 Also les Halles Centrales is a pretty building too.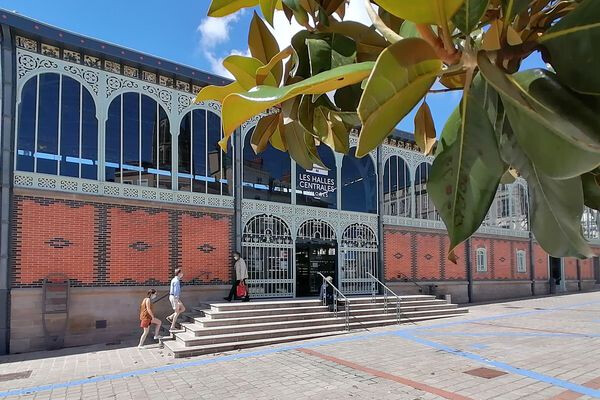 My soft-spot for Limoges goes back many years… to when MiLaw was still alive.
Seems she'd visited Limoges once before and fallen in love with the city… particularly the old part… arcades, alleys, cafes, big squares…
This time, we were visiting as a family… (but my first visit to Limoges)…
We wandered around and suddenly came upon the Town Hall…
She was gob-smacked/thrilled to see that building bedecked with hanging baskets… which were absolutely magnificent .
(She was a keen gardener and, as I recall, was itching to take cuttings… but the baskets were carefully just out of reach…

)
Her joy/pleasure was extra special to us, as she'd been diagnosed with terminal cancer… and we were all visiting France on her behalf… another tick on the "bucket list".
This thread reminded me of when I was on my bike, or motor bike, hazy memory here, but do remember how disappointed I felt, as an architectural student, when I saw Corbusier's Chapel at Ronchamp – looked so dismally drab then!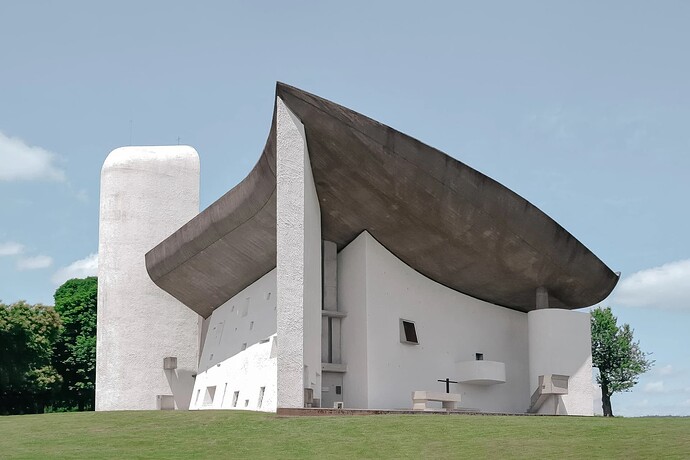 So, if I could take a lovely French building with me to my Desert Island, methinks it would be Notre Dame.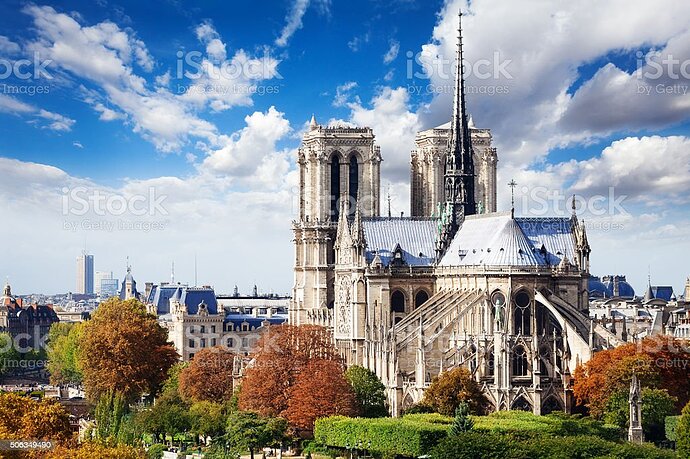 Have to disagree Dr Mark. I worked in Limoges for a few years having lived in the area for a long time. The city boasts loads of Art Deco buildings in the centre which are superb.The automobile club building opposite the Marie is just one superb example.
The nicest SNCF station for me is Metz by a mile. Limoges is lovely too.
Fun fact: earlier this year we had a guided tour around a chateau in Saint Estèphe during the "portes ouvertes" weekend. They showed us how they're experimenting with aging wine in vats made from porcelain from Limoges instead of using wooden barrels or metal tanks. Apparently they have a tendancy to crack and leak wine everywhere so there's some work needed still before it'll be used extensively.
You do know it needs a bit of work doing on it?
I do indeed - I'll wait to choose the old or the new, once the damage has been repaired…sometime in 2024 according to Reuters…
It'll be interesting to see it clean, I visited Chartres several times during its restoration when one could see the 'old' as 'new'. What a difference - like having access to a time machine. You saw how the light from the stained glass windows coloured the cleaned stonework
However, I think with Notre Dame's restoration there's been a missed opportunity to replace Viollet-le-Duc's C19th fleche with some exciting C21st glass. Glass played a large part in mediaeval aesthetics, which put great emphasis on light and it would have been very apt to use some contemporary technical glass, which has become an amazing architectural medium.
Or would that suggestion horrify you?
Love visiting Chartres… there's a fabulous stained-glass shop right near the Cathedral.
We would buy something there, every time we visited… for us, or for family gifts.
Gradually got the whole nativity scene, which looks marvellous with tealights behind the figures…
The cathedral and the shop are well worth a visit… just for the pleasure…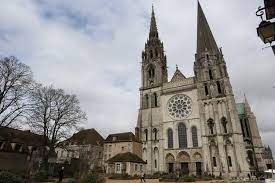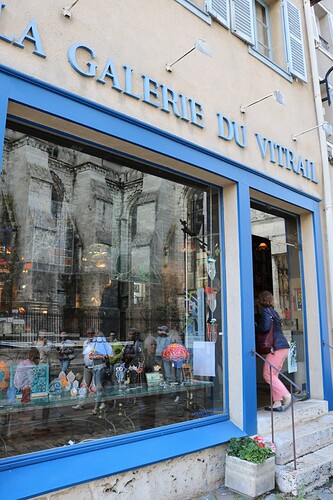 Nope, not at all – it would be refreshing.
I'd like to see Corbusier's chapel brought into the 21st century in one way or another. Personally, I'd like to see some colour, but the purists wouldn't allow that.
Have you been to the abbey at Conques?
If not, it's Romanesque so comparatively simple compared to what followed, but is nevertheless, high, spacious and very beautiful. A few years ago the C19th stained glass was sensitively replaced with new, uncoloured glass designed by the painter, Pierre Soulages (who knew Pollock in 1950s NY but is still working today!)
Les vitraux de Pierre Soulages - Site Principal - Office de tourisme Conques-Marcillac (tourisme-conques.fr)
The rationale was that coloured light was too much for the unadorned architecture, but with the new glass the light changes subtly through the day and through the year.
I have to disagree, it's an uplifting building.
Auch is well worth a visit…
OH and I used to run up the "monumental staircase" and shout hello to d'Artagnan as we went by… phew, not a hope nowadays…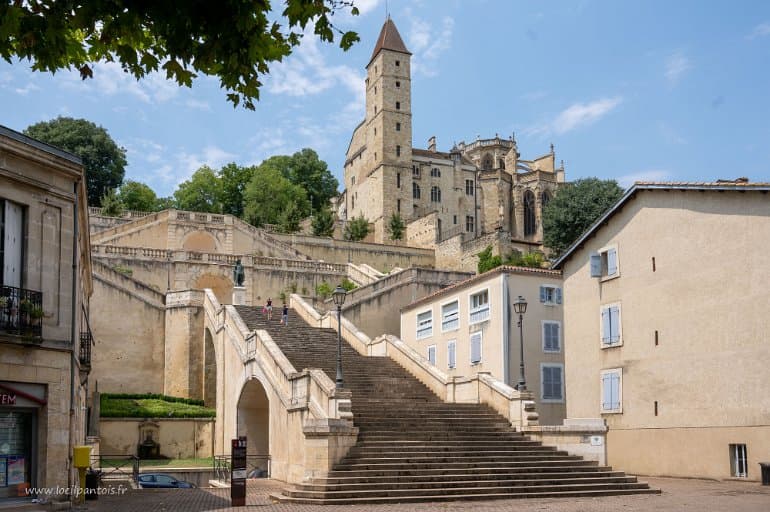 which is why seasoned oak is so good… it doesn't leak… and adds its own "certain something" to the flavour of whatever liquid is within… hic
For you, yes. But for me, I don't warm to concrete-brutalist-architecture, as in the UK's South Bank, and which I may see in some of Corbusier's architecture.
I like the Tiffany-type lamp in that shop window Stella
They have so much lovely stuff… honestly, it's great just wandering through the aisles…
Limoges railway station is just beautiful and the tourist part of the town is good but outside of that Limoges is like any other French Town. Good in parts.