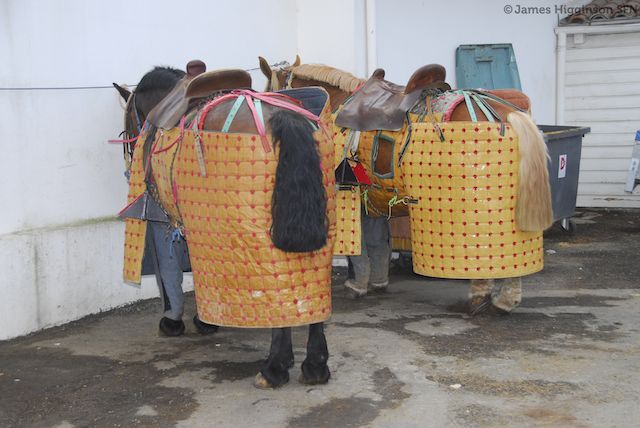 Horses wearing protective dress at the Dax arena in Les Landes, France (File image)
A man has been left fighting for his life with serious head injuries following an anti-corrida protest in Rion-des-Landes in south-western France last Saturday. These injuries were not caused by a matador failing to dodge an angry bull, but were as a result of police and event organisers intervening to remove protestors from the arena, injuring more than eight people in the process.
Bullfighting can trace its roots to prehistoric bull worship and sacrifice, and in the south-west of France is heavily influenced by the Spanish tradition, known as "corrida de toros" (literally running of bulls). It is deeply ingrained in the culture of many societies. Ernest Hemingway's take on bullfighting (from his 1932 book Death in the Afternoon) was: "Bullfighting is the only art in which the artist is in danger of death and in which the degree of brilliance in the performance is left to the fighter's honour."
With the Spanish authorities clamping down on bullfighting, the spectacle has become increasingly popular in southern parts of France. It is not clear whether or not the bulls were to be fought in the Spanish style with swords and lances, but the spectators were indeed treated to a fight. Over 60 members of the animal rights groups CRAC Europe and the Brigitte Bardot Foundation arrived in Rion-des-Landes and fighting broke out when police and bullfighting organisers intervened to remove them from the arena. Allegations of brutality and threats of legal action have poured in from all quarters. The family of the seriously injured protestor have threatened to press charges with the vice-president of CRAC Europe backing them up and warning, "we have photos".
Brigitte Bardotte, France's most famous animal rights campaigner, weighed in and blasted the police for their heavy-handed approach, condemning them for the "brutality and savagery with which law enforcement and certain [bullfighting] aficionados attacked anti-bullfighting protestors...".
The local town hall is not taking this lying down either, with the mayor of Rion-des-Landes, Joel Goyheneix claiming the protestors were insulting and provocative, and their violence and hatred was marked. Local police Colonel Fabrice Spinetta condemned the protestors themselves for being "very aggressive" in their actions, and the deputy mayor, Bernard Dehez (one of the organisers of last Saturday's bullfight) also joined the fray and announced that charges would be pressed against the protestors, accusing them of "offences against public order and destruction of property," as well as "being a nuisance to our show, which led to financial losses."
Was the police response disproportionate?
Is the treatment of animals in this way acceptable today?
Should ancient traditions such as these be left alone?
What do you think?