Good news for Revolut account holders in France… just received this email:

You can now get a French IBAN
With just a few taps you can join the new French branch and claim a French IBAN

Hi Graham,
Currently, as a French Revolut Payments UAB customer, your Euro account details have a Lithuanian IBAN. You can now get a French IBAN with our new French branch: Revolut Payments UAB - France. You're one of the chosen few, who'll get to access this feature first!
What do I need to do?
Once you opt to join our French branch, you'll need to provide your consent and accept our T&Cs. Once you've done that, you'll be able to find your new IBAN in-app and you can start making local payments right away.
Why should I get a French IBAN?
Getting local French accounts details (IBAN), give you access to loads of cool features, like:
Getting your salary paid directly into Revolut
Making payments via direct debit
Avoiding the additional paperwork required for non-French IBANs
Paying utility providers directly from your Revolut account
Cool, right? And you'll still be able to use all the services and features that you love, of course.
Your French IBAN can also be used for international SWIFT payments. In order to make the transition seamless, you'll still be able to receive payments using your old Lithuanian account details for one month after you receive your new French IBAN.
New T&Cs
You can read through the new Terms and Conditions here, which you'll be subject to if you join the new French branch. These T&Cs are mostly the same as your existing ones, with a few changes to make them compliant with local laws. You can find a summary of the key changes below:
All services related to the French IBAN account (local and cross-border direct debits and credit transfers, currency exchange, Revolut Junior and Vaults) will be provided through the French branch. All other services will continue to be provided from other entities in the way they are provided today.
Payment types which are not related to the French IBAN account (e.g. card payments), and activities which are not payments based at all (e.g. paid subscription plans, insurance, etc.) will all continue to be provided by Revolut Payments UAB. This will not have any material impact on you as a customer.
French Branch customers will be subject to local French anti money-laundering regulations. These terms and conditions will automatically apply to you once you consent to joining our French branch.
How can I find out more?
If you have any further questions, please refer to our FAQs here . We've also got a helpful blog post here .
Thanks,
Team Revolut
If you would like to find out more about which Revolut entity you receive services from, or if you have any other questions, please reach out to us via the in-app chat in the Revolut app. Revolut Bank UAB is a specialised bank established in the Republic of Lithuania. Revolut Bank UAB provides Credit and Demand Deposit Account services. Registered address: Konstitucijos ave. 21B, Vilnius, 08130, the Republic of Lithuania, number of registration 304580906, FI code 70700. Revolut Bank UAB is licensed by the European Central Bank and regulated by the Bank of Lithuania. Revolut Payments UAB is an electronic money institution established in the Republic of Lithuania. Registered address: Konstitucijos ave. 21B, Vilnius, 08130, the Republic of Lithuania, number of registration 304940980, FI Code 32500. Revolut Payments UAB is authorised and regulated by the Bank of Lithuania. Insurance related-products for Revolut Payments UAB customers are also provided by Revolut Payments UAB, which is authorised by the Bank of Lithuania to undertake insurance distribution activities.
Revolut Ltd provides Crypto and Commodity products. Revolut Ltd (No. 08804411) is authorised by the Financial Conduct Authority under the Electronic Money Regulations 2011 (Firm Reference 900562). Registered address: 7 Westferry Circus, Canary Wharf, London, England, E14 4HD, United Kingdom.
Haven't had one of those messages, you truly are one of the chosen!
Do you get the 'sign up a friend' offers?
I presume the key question now is should one keep paying for the existing France bank account? It's only 2 or 3 euros / month…
I've just got the same email, I'm a chosen one too​:rofl:


One clear advantage that I can see right now is that it will no longer be necessary to declare Revolut accounts on the cerfa 3916 next tax round in a little under a year's time (except in 2023, completing 3916 to show the foreign LIT account closed).
Haven't managed to find an address for the Bank yet but will keep looking.
Why not… I think we will wait and see how it progresses. The only issue there is that we would lose the Cheque Book facility which is quite useful from time to time.
I have a UK pension paid in to the account so will need to advise them the new IBAN and account number
Vanessa has just received her upgrade email as well now (Revolut obviously got their priorities right)

That would be great to get a French IBAN - I think I got an email from them today but just deleted it!
What would be very useful, well, essential really, is to create and print a RIB, and at the moment I can't see any way to. If you are on the Rev community and no one else has, perhaps you could ask/ suggest @graham. I'm blowed if I can remember my password for it these days


go in to the app - the facility to upgrade should be there on the front page "to do"
I have now found the address for Revolut France and sort of kind of a RIB in Documents - accessed from your avatar in the top left corner of the app.
There is a section which is headed "Account Details" which provides * Sort Code
Simple enough to cut the strip out containing the info (which I think is also necessary with many Banks in France where RIBs are combined together on a single sheet of A4).
The bank address is in the footer on that document and is shown as:
Revolut Payments UAB
PATCHWORK SAS
3 rue de Stockholm
75008 Paris
France
I don't have that, I am possibly not yet one of the chosen few!
I have just tried to change my address from UK to French address and I cannot because of banking rules, they (revolut) suggest that I close my UK account and reopen one in France. So now I have to close my revolut acct move all my funds out to somewhere, close my debit card. Open the french account, get French debit card move my funds back into French Revolut. Aaagh.
Do Revolut have a maximum sum you can hold with them before charging you for the privilege, as Wise do now?
Yes (and no…)
A post from the Revolut Community: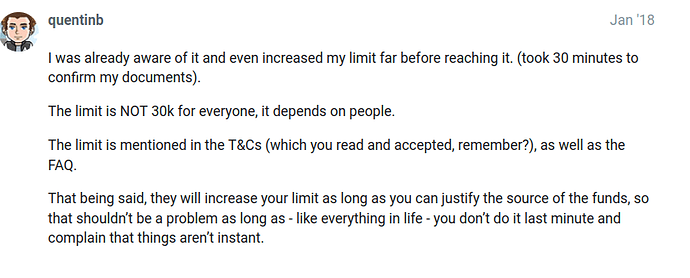 AFAIK there is no charge for the privilege of Revolut holding your money.
I've just had a "chat" with Revolut as I hadn't received any information about transferring from a Lithuanian IBAN to a French IBAN. The conclusion was
after you have consented to joining the French branch and you have provided all necessary additional information, we will confirm that you have been issued a new FR IBAN for your Revolut Account. Through this opt in process, the power will be in your hands to choose when you would like to have your IBAN has changed
and on likely timescale to receive the notification
Sadly, I can't provide you with any specific timeframe for now . Do not worry you will be notified from our end in-app and also through an email
Revolut are going from strength to strength with improvements to account security.
Some timely advice from Revolut about keeping your account safe:
Just for information - I have the UK Revolut app and in the last few days / recently it's added a 'euro' vault - not much interest just 0.9%.
Tapping on 'protection' it looks like the account is supplied by Investec. (edited for auto spelling)
I think this might be the only euro interest paying account available in the UK?
PS I've now got my Livret A and LEP open too!
I don't think that interest bearing vaults are yet available to Revolut accounts elsewhere in the EU (although they are promised).
Don't forget (as I'm sure you are already aware) that you must declare the interest gained in your French tax return.
The big question with Rev is whether they've finally actually filed their accounts yet

Not the way to behave if you want a banking license. Between that and Wise trying to stiff the competition and proving that all their talk of ethics was just complete bluster it's not UK fintech's finest moment.