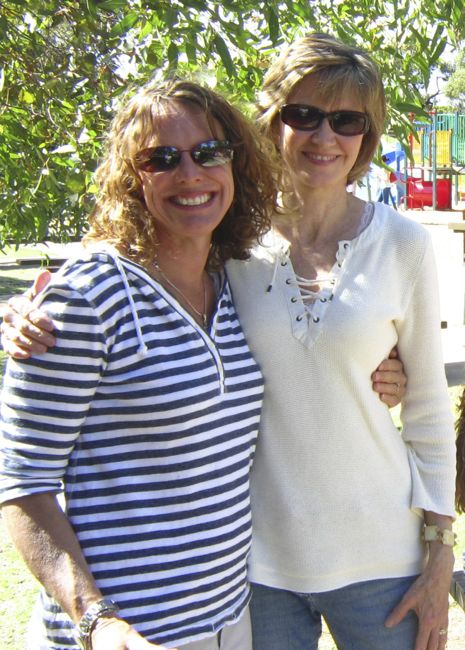 Two authors in the family! That's me on the right, in Australia with my talented and beautiful step-daughter Kelly, who published Sailing to Jessica, about her trip around the world. Which ended, by the way, with the adoption of our daughter/grandaughter in the Gilbert Islands.
"You should write a book about that!" Have you heard that before? Well, now you can.
It's now possible for me to publish a book for the states, Europe, and beyond, from my desk in France (as I did this summer). And whether you've written the Great American Novel or you just want to write your family history for your grandkids, you can do it too. Here are some thoughts, from my experience and from our readers who are authors.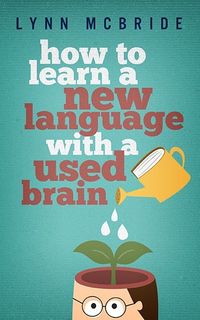 The Plan: Decide if you just want something just for family and friends. If it's just for family and you want to pay for it yourself, there are lots of print-on-demand options, you don't need a publisher (try Snapfish, for example). But if you want to sell the book to even a small audience, self-publishing might be the way to go.
The cost: if you are handy enough to do the cover, editing, and formatting yourself, you can publish for almost nothing. If you're serious and seeking something professional looking however, you'll need to hire a cover designer (I was very happy with my designer: Damonza.com). I signed up a friend as my editor, but this was too much to ask and I should have used a professional. You simply cannot believe how many times you have to read a book to catch the errors. To get a cover design, editing, and formatting done, you could sqeeze by on $1000 but you could spend a lot more.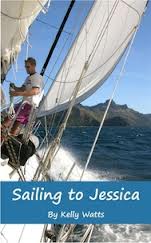 The time factor: Writing it may be the quick part! There are many publishing options, and it took a while to sort them all out. In the end I decided to go just with Amazon's Createspace (for print, with both free and paid services) and their Kindle Direct (for the ebook), which is the easiest DIY way , and the fact is that Amazon controls a huge chunk of the market. What took time: finding a cover designer, educating myself about how to be an author and publisher and marketing person; the formatting; the marketing itself. I was lucky in that Ron was willing to do my formatting. You can have that done for you as well; Damonza.com does it for $199, for example. For the hassle factor and the time it took, this, I can tell you, is a bargain. (Note that you can also go with a self-publishing service, who will do some or all of the work for you for a fee or a cut. Smashwords or Bookbaby are two to try, but study them carefully to see what you're getting).
The how-to: Before you type the first word of your book, read a how-to book and/or several how-to articles or blogs. Why? Apart from the obvious reason of figuring out what you're getting into, your typing will later have to be formatted. I typed mine in Mac Pages, which I later found out was a bad choice for Amazon's Createspace (Word is better, and there are other options). When you type you must avoid all formatting, such as tabs and paragraph indents. So save yourself a LOT of bother, and do your homework FIRST.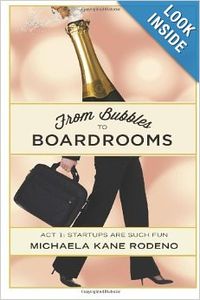 Loyal reader Michela Rodeno, who has just published From Bubbles to Boardrooms: Act 1: Startups Are Such Fun (Volume 1)
, recommended a great book for authors, called APE: Author, Publisher, Entrepreneur-How to Publish a Book.
Study it, before you start. Just about everything you need to know is in this book.
The marketing: If you publish it, they won't come---unless you bring them to the book. Most self-published books sell less than 100 copies. There is a lot of competition out there. So before you even begin, figure out how you'll market it. Marketing will be an on-going time-eater.
My step-daughter Kelly has a good marketing tip: "I would recommend that everyone makes a book trailer for their book. In my mind, a book trailer is today's high tech version of a glossy brochure - but it is more fun to watch and share". She was clever enough to do her own, or perhaps you have access to a teen-ager?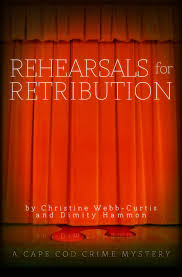 Our loyal reader Christine Webb-Curtis is a self-published author, with co-author Dimity Hammon. One key to building successful sales is to have a series of books, and they are now writing their third, after The Diva's Demise: A Cape Cod Crime Mystery and Rehearsals for Retribution: A Cape Cod Crime Mystery. She recommends taking notes on the publishing process as you go along, so the next one will be easier. "Each one has been a little like birthing a baby, for heaven's sake," says Chris. "After this last time, we have kept instructions on some of the nuances."
Now, to all all you aspiring authors out there, I say, go for it! And for you, a big fat bon courage!
One more tip: We have a free-lance editor among our readers, I have just discovered! So if you need an editor for your book, you know who to contact: Barbara Bell. You can get in touch with her through her website or through LinkedIn.
In the COMMENTS: The artists from last week's post will be thrilled to read your nice comments! And Natalia, you are so right, we can learn to appreciate different styles, when they speak to us. Sally, I agree--Marion pulled off a pretty amazing feat, given the French love of red tape. And Judy, pigeonniers were originally towers that were homes to pigeons. Pigeon caca is prized above all for it's fertilizing properties, so having a pigeonnier was a status symbol--as it is today, but only because of their charm.