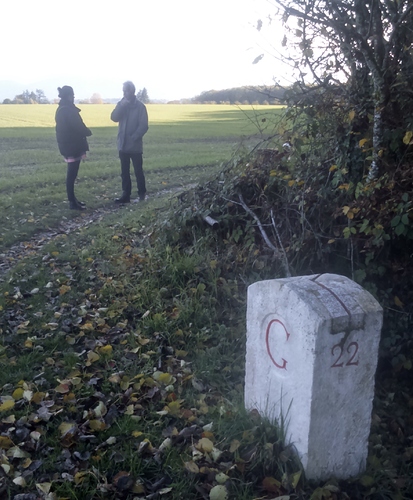 We are certainly not celebrating! However wondering whether we should mark the date so it sticks in our minds, but yet to think of the right idea.
I was wondering about spending the day going to Switzerland and Germany. Had I not had a mammogram booked for the morning we could probably get to Italy as well…but not a very environmentally friendly idea.
Which leaves with the fall back of a nice european lunch… Any other suggestions?
(A sort of relevant story…The photo is of borne 22 on the swiss-french border, a walk we did recently to remind us how incredibly lucky we are and the importance of an united europe. This is a bit of the history of borne 22 from spring 1944 when jews were trying to flee France. This man saved dozens.)
Celui qui nous est le mieux connu est le facteur d'Ornex, François Lachaux, né à Moëns en 1885, patriote et républicain convaincu, qui tenait avec sa femme, la «mère Lachaux», fameuse cuisinière, le café Lachaux en bordure de la route Ferney – Gex.
On allait « chez Lachaux » la nuit, quand il y avait quelqu'un à passer. Bien que presque sexagénaire et traînant une «patte folle», François Lachaux se rendait alors à la ferme Jouffroy à Maconnex, en face du «château» où logeait son fils Louis Lachaux, membre des FFI depuis 1943, pour chercher les fugitifs. Il les amenait jusqu'aux barbelés par des sentiers en sous-bois, d'où ils gagnaient la sortie du bois côté suisse, près des bornes 20 à 22. Selon le récit familial, il aurait même porté des fugitifs incapables de marcher.