A few words from todays post in the Gardener in France blog



It feels a little autumnal today; temperatures have dropped ten degrees to around 20° C and as if to prove the point, plant catalogues have started arriving in the post. I am a cynic when it comes to this end of the gardening market; outrageous claims, dodgy photographs and a lack of Latin names are a feature of these publications. Offers seem too good to be true and generally are, and why do they think price draws and free gifts are a good idea? I guess I am not their ideal customer profile.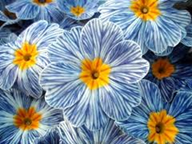 In France, Jacques Briant is perhaps the acceptable face of this genre and their autumn catalogue has made interesting reading. An inserted special offer leaflet with four David Austin roses for 28€30 attracted my attention and had me turning pages. I arrived at page 18 very rapidly, but paused to look at Camellia williamsii Anticipation – 9,99€ for a 7cm rooted cutting….I don't think so! Seven pages later a primrose caught my eye – Zebra Blue has sky blue veins over a white background – very pretty and five times the price of Suttons in the UK, but then, Suttons don't send plants to France.



Fruit next and yes, they offer both white and red-fleshed Peche de Vigne. There's a selection of Apples, Pears, Plums and Cherries, including Bigarreau Trompe Geai, with yellow-white fruits, unattractive to birds. Being France, there are also Apricots and other fruits, more or less exotic to the English gardener. They give a half page to the self-fertile Kiwi (Actinidia) Solissimo, which I bought from a rival company in the spring. My plant arrived in a pathetic 7cm pot and finally convinced me I was never going to buy from Willemse again.



Rushing on to page 48 to look at the shrubs. Abelia Kaleidoscope is a lovely looking plant, already growing happily in the front garden, as my reader will be aware. Mahonia ( nitens) Cabaret is doing well in the back garden, as are Daphne odora (Aureomarginata) – full Latin names are not always used – and several others featured here. By pages 52/3 we have moved on to Hydrangeas, including some tempting new varieties. I think I'll wait until the Coursan plant show to buy a few more, perhaps Hydrangea arborescens Incrediball, with truly massive white flower heads.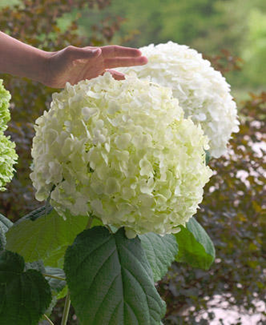 Moving on past several interesting climbers, including their own Schizophragma Rose Sensation, which we planted this year, interesting looking Akebia quinata rosea and several attractive Clematis, we finally arrive at the trees, where several plants take my fancy.



I have always felt the front garden needed a tree and considered moving a speciment from the back to the front, but obviously we want to sho off a bit! Three other possibilities leap out from the page: Albizia (julibrissin) Rouge Pompadour a gorgeous Mimosa-like tree of sculptural form with fluffy red flowers, Acacia Casque Rouge (actually Robinia Pseudoacacia Casque Rouge, but I'm sure they know that) a deep pink form of the Robinia that grows wild all around us and, Chitalpa x.taschkentensis Summer Belles. This last tree is really rather interesting. A recent hybrid between Chilopsis and Catalpa, the original breeding work was undertaken at the Uzbek Academy of Science in Tashkent, Uzbekistan, in the 1960s before being introduced internationally in the mid 1970s. This small hybrid with a rounded form initiates flower bud in June / July, opening to produce an abundant display of frilly pink flowers with yellow throats for the rest of the summer.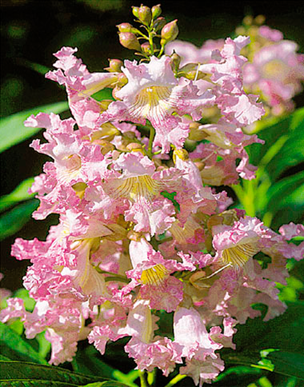 Other forms exist but this could be the answer.



The catalogue continues up the order form at page 120 by which time I have very mixed feelings. On the one hand some interesting plants, on the other, French retail prices and irritating marketing methods which do not inspire confidence in this gardener.