Tuesday7th June figures:
https://www.ouest-france.fr/sante/virus/coronavirus/covid-19-53-802-nouveaux-cas-ce-mardi-reprise-de-l-epidemie-ou-rattrapage-apres-les-jours-feries-27685676-e750-11ec-8458-b2f5aa0496fd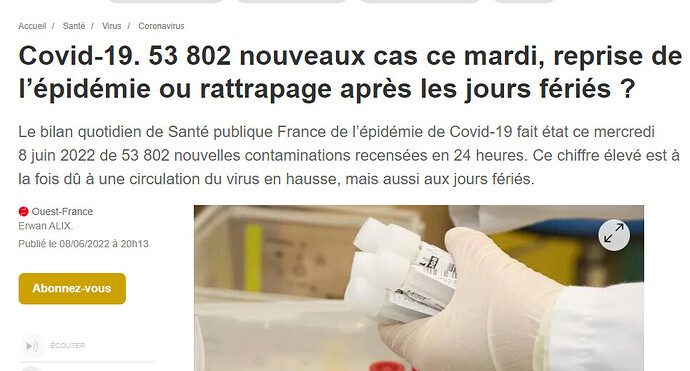 Thanks for continuing to post this. Me and 3 other people wearing masks in Leclerc yesterday.

Well, my mask stays with me and I wear it inside regardless of others.
I've no problem with those who choose not to wear theirs, but I tend to keep them at a good arm's length…

I'll keep the thread going until we get some definite "end". Let's face it, if there's no official reporting, there'll be nothing for me to post… and we can all relax.
Now remaining valid until June 2023… so hopefully no hiccups for travellers in the foreseeable…
The European Parliament and member states agreed on Monday to extend the EU's digital Covid certificate regulation for travel within the Union by one year, until June 2023, announced the European institutions. Many Member States have stopped requiring it to enter their territory. But "European legislators want to guarantee that European citizens can move freely in the event that a new worrying variant emerges", explains the Parliament in a press release…
Hmm… figures are still moving upwards… just a little but enough to be concerning…
Sunday 19th June
Oh dear… BA-5 is more contagious; infections are on the increase… despite the hot weather. Too many folk have forgotten/ignored the "preventative steps" (gel/masks) and/or refused to get the 2nd extrajab.
A gentle (but firm) call is going out to all those who are entitled to vaccinations… as the take-up has been too low.
Cases are on the increase and there is concern that this is the beginning of a new-wave.
For those of you who had tucked them away… get the masks ready for action… just in case.
https://www.ouest-france.fr/sante/virus/coronavirus/covid-l-epidemie-reprend-en-france-bientot-le-retour-du-masque-dans-les-transports-ddb006ae-f2fe-11ec-956e-944022618b7e

We're due across in a couple of weeks - wonder if there's going to be new regulations in place or even testing required before travelling.
Not seen new rules yet… if you're up to date with jabs and have your docs which you will possibly have used previously… shouldn't be a problem. I'll keep my eyes on the press releases.
I get the impression they would rather folk are careful, than take a hard line.
Even the UK are thinking about recommending the wearing of masks again in enclosed spaces, we've certainly noticed more people 'masked up' in supermarkets here recently.
Just different viewpoints… the same figures…
hum does "lieu de promiscuité" mean what I think it means?
I was laughing with a neighbour… who explained that it wasn't what I was suggesting (as in brothel), just a place where folk gather in crowds and "let rip" or let their goodsense go flying out of the window… … night clubs, bars… dancing… parties… whatever.
I was giggling but my neighbour was very straightfaced… very serious.