The health minister has annouce this morning that the "rappel" vaccination is open to all adults from this Saturday , from 5 months after the last vaccination. Masks to be worn in all public places.
I think that's an important change… +18's don't have to wait the 6 months…
Exactly and it applies to all adults from Saturday and not just over 50s from next Wednesday. I'm glad my partner is already booked in!
The other big change is that the PCR test will only be valid for a pass sanitaire for 24 hours -instead of 72. So people can't get a test on a Friday and party all weekend…
Plus masks back on in internal spaces, and external ones subject to individual préfecture decisions.
Plus changing the way schools operate with covid cases - testing rather than automatic closures.
The Keldoc vaccination booking site was overwhelmed yesterday and collapsed. Maybe a mistake to open boosters to everybody and cut the gap to 5 months all at once. Still, the response shows people want boosters I guess.
A new variant has arrived to mess with our lives. Let's hope the present vaccine continues to work,
The Botswana Government put out a statement saying that the "mutant" was found in 4 fully vaccinated travellers who tested positive in pre-travel tests and not in an HIV patient…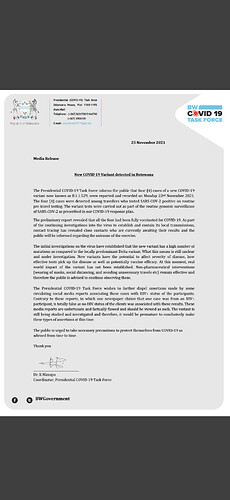 This variant appears to be quite heavily changed from most typical variants, with a lot of changes to the receptor binding domain that gets the virus into cells - the part that neutralising antibodies recognise & block to provide protection.
This kind of variant is what we concerned would appear if large numbers of people were infected instead of having immunity from vaccination - the more infections the more chance of mutation/variants. This emphasises why the wealthier countries needed to get a vaccination program well established in the parts of the world that can't/won't manage it themselves. And if it's been found in vaccinated travellers then it is extremely likely there will be a pool of unvaccinated individuals in which it originated who have not yet been identified. There is a possibility that it arose because of selection pressure due to vaccination, but that is relatively unlikely, simply because vaccination makes it much harder for the virus to replicate sufficiently to generate a large number of changes like this.
If the genetic profile is known then we should be able to express the new spike & RBD proteins in just a few weeks, then get them into our neutralisation assay for vaccine researchers to use assessing neutralisation and efficacy.
It's a shame it doesn't say whether those infected had symptoms or how ill they were.
More deadly apparently. And considerably more infectious than Delta - which was itself noticeably more infectious than previously dominant variant.
I'm struggling to get a RDV for a booster, did I read that pharmacies are giving the covid jabs?
I'm guessing they didn't feel too ill as they were all set to travel and probably didn't expect to test positive….

It was only a few days ago that the headlines were all much the same and along the lines of
" Scientists mystified, wary, as Africa avoids Covid disaster"
Scientists no longer mystified, Africa looks like it may be heading for the expected disaster after all. (unfortunately)
I had my third jab on Weds, I was given the paper saying that I had three and the updated PS on paper duly loaded to the OH's 'phone.