80 bag box of Yorkshire Tea was €6.50 in Super U yesterday!
Even at that at less than 10 cents for a pot for 2 is an absolute bargain!
How much are they in the uk
£2 for 160 bags (on offer) . So only approx 565% more.
I just worked it out, I use 3 bags in my pot so 26.6 for that pot so that works out at €0.24 so actually in the grand scheme of things not TOOO bad - it is the difference that is just crazy!





No no sugar!
To be fair it is a big pot - about 1.2L so gives us about 4 big mugs of tea.
90 Tetley's (3 x boxes of 30) would be 2.55€ in our Super U.
It is BBQ week next week at Lidl - I have looked through the magazine for these and I haven't found them - can you send a photo it you see them please.
Hold the press… These possibly?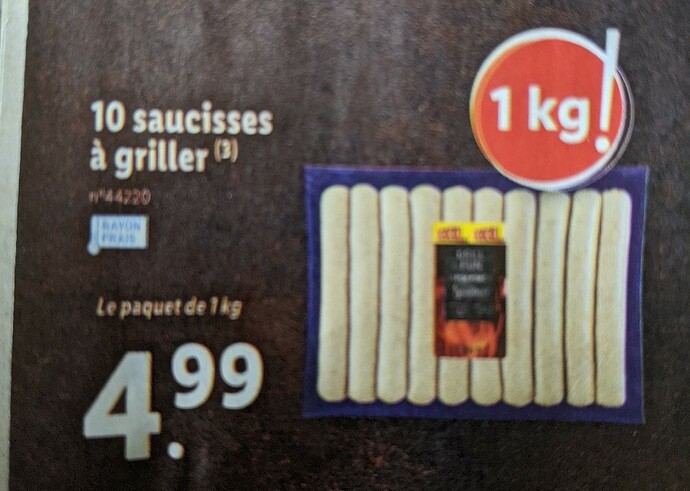 Yes that is them! I really find them very tasty, with fried onions, gravy and mash or chips it is one of the kids favorites! Also great on the BBQ but I tend to just shove them in the oven with the chips (dont' take as long).
just wondered what the additive count is like, often ones at this price aren't that healthy in terms of fat etc!
1040 bags of Yorkshire tea (3.25kg) on Amazon for €39.99 at the moment, plus 12€ something for postage so if you buy two as I did it is as cheap as I have found any time in the past. And they arrived today even though I ordered them on the 27th in the evening.
Why did you need to pay postage?
Because for some reason they were charging postage - this is the first time I have had to pay it, in the past I paid 46 odd € for the same size bag of teabags but no postage so it works out the same. A couple of months ago they wanted anything between 60ish to 98€ for exactly the same product so I haven't a clue what's going on.
Just go to amazon.fr and search yorkshire tea 3.25kg, this will appear.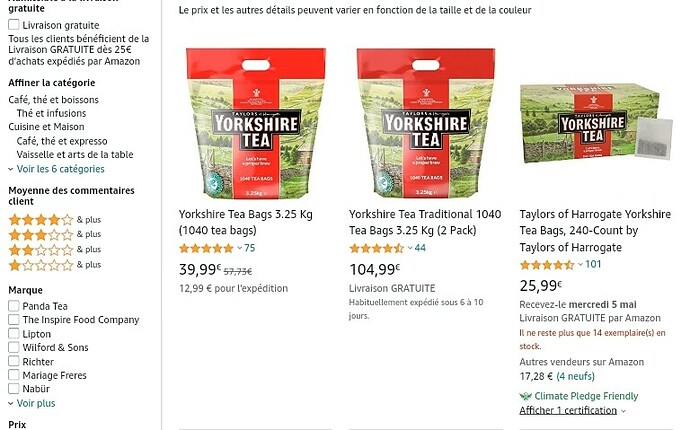 Proper kippers back in our Super U yesterday…not fillets in a bag, but as good as those from Craster or Whitby …in fact there is no place of origin on the label so I wonder if they are indeed imports from UK as not like others I have had here…but still not got tea bags back on the shelf !
Bought 1100 Typhoo tea bags (caterers pack) for 45eu off amazon this week.